The February 2013 price of natural gas had a rough week testing resistance at 3.46 yesterday and 3.45 today. A revised temperature forecast coupled with modest gains against five-year average storage rates are to blame. Just a few weeks ago, forecasters predicted warmer than expected winter temperatures for the eastern two-thirds of the United States. These experts are backing off that prediction and revising it downward for the remainder of January, sparking fresh demand from the nearly 50% of American households that utilize the fuel for home heat.
EIA reported last week that working natural gas in underground storage declined week-over by 201 billion cubic feet. While current stocks had traced the top end of the five-year average since October 2011, the trend was broken, and nattie in storage dipped into the five-year for the first time, showing withdrawals exceeding deposits.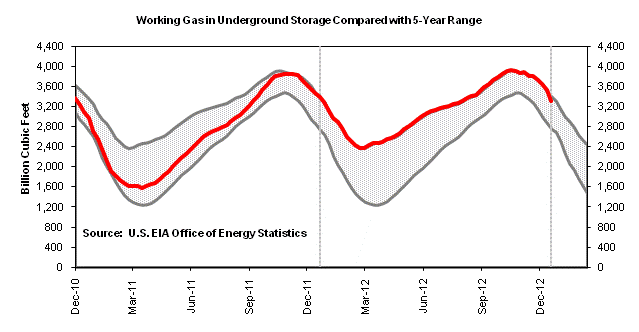 This will affect LP pricing, and the same factors that chase natural gas to the upside here may exert the same upward push on farm diesel as farm diesel and heating oil compete for the same distillate stocks.
Prices for natural gas will likely get comfortable in a range higher than we have seen in the past several months, and until demand for home heat softens, expect that range to rule the day.
February 2013 Natural Gas ended today at 3.44 -- trending to the upside.
---