Analyzing the weather is Climate Corporation's business, and director of agronomic research Jeff Hamlin says much of the Corn Belt has received the kind of cooperative weather needed for record yields … so far.
"Our model looks at what happened in each county and runs a series of simulations based on 30 years of historical weather to forecast what might happen for the rest of this season," he says. "It allows us to see how the weather might unfold if this season were similar to previous seasons."
Based on Climate Corporation's projections, Hamlin says it seems quite likely that we will hit the USDA's 165.3 bu. per acre forecast – if the weather continues to cooperate. He says there are three weather events in particular that could disrupt bin-busting yields.
1. Too much rain. Rainfall is currently above the 15-year county average, and if El Niño conditions develop, it could favor a wetter, cooler fall.
2. Shortfall in growing degree days (GDDs). Unseasonably cold temperatures could damage the crop.
3. Drought during grain fill. Grain fill requires a high amount of water, so yields could be affected in areas that are particularly dry during this period.
Hamlin invites growers to learn more about Climate Pro, which includes a "Revenue Advisor" that calculates a national yield forecast. It is updated daily.
Meantime, AccuWeather just dished up its fall forecast, painting a picture of a relatively cooler, wetter season.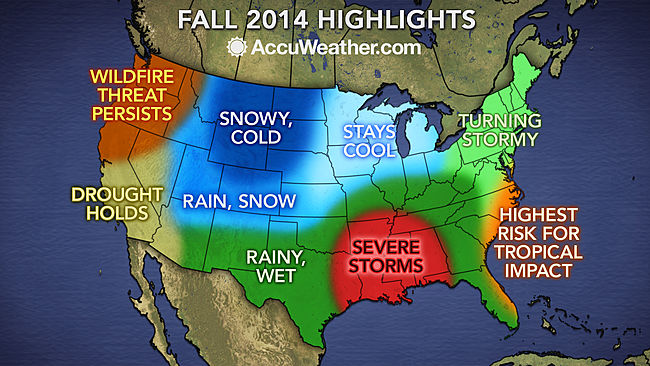 Conditions in northern Canada may set up similarly to last fall, getting colder and unsettled quickly. If that happens, the pattern could become a source for colder air to invade the Northeastern U.S. The Rockies could see snow early, and severe storms and flooding could be common across the south, according to AccuWeather lead long-Range forecaster Paul Pastelok.
Meantime, the Southwest might see a battle between drought relief and flooding unfold, he says.
"When you go from dry conditions to heavy rains and monsoons, the rain can cause mudslides and major flooding," he says.
NOAA's 90-day temperature forecast, released Aug. 1, predicts "cooler than average" temperatures across much of the Midwest and "warmer than average" temperatures in the West and Southeast.
Want to talk more about the weather? Join the conversation on AgWeb's crop production forums.