Farmland values in the Midwest continue to stabilize. Agricultural land values for the Seventh Federal Reserve District, which includes the northern two-thirds of Illinois, Indiana, Iowa, the lower peninsula of Michigan and southeastern Wisconsin, were unchanged in the first quarter of 2019 compared to a year ago, according to a recent report from the Federal Reserve Bank of Chicago.
There was a 1% increase in "good" farmland values from the fourth quarter of 2018 to the first quarter of 2019. Indiana and Iowa saw year-over-year decreases in farmland values, while Illinois and Wisconsin saw no changes. 
The stability of District farmland values persisted even as the demand for agricultural land softened from a year ago and the supply on the market grew modestly, according to David Oppedahl, senior business economist for the region. 
"There are people in rural communities who have really strong balance sheets and are in an offensive position, with the capability of buying land," reported an Indiana banker.
However, Oppedahl notes, several factors are pointing to some downward pressure on farmland markets. They include: 
Land loan demand: Only 7% of bankers reported higher demand to purchase farmland and 28% reported lower demand. 
Land for sale: There was an uptick in the amount of agricultural land for sale during the most recent winter and early spring relative to a year ago, as 28% of the responding bankers reported more farmland was up for sale in their areas and 22% reported less. 
Investor interest: Several bankers reported that investor interest in farmland was robust. 
Lower cash rents: Compared to 2018, cash rental rates in the district are 3% lower this year. For 2019, average annual cash rents were down 2% in Illinois, 3% in Indiana, 4% in Iowa, 2% in Michigan and 4% in Wisconsin. 
After adjusting for inflation, cash rental rates slipped 5% from 2018. This was the sixth straight year of declining real cash rents—the longest such downturn since 1981 (when the survey started to track cash rents), Oppedahl reports.
Annual Percentage Change in Seventh District Farmland Cash Rental Rates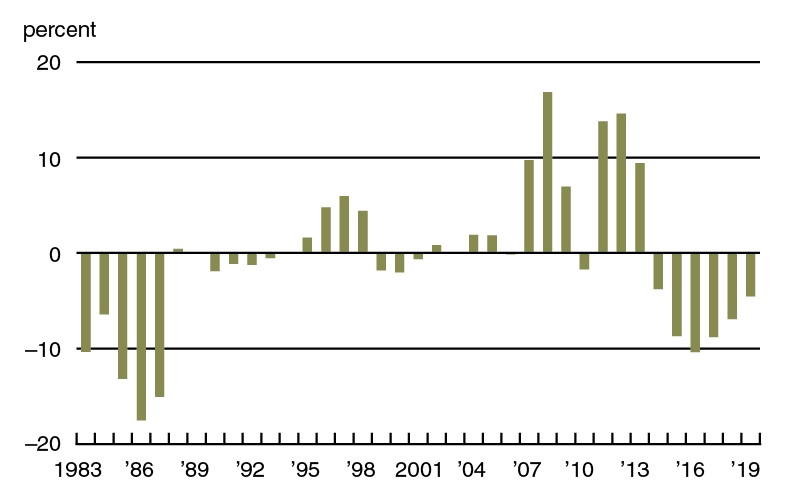 Sources: Author's calculations based on data from Federal Reserve Bank of Chicago surveys of farmland values; and U.S. Bureau of Economic Analysis, adjusted for inflation by the Personal Consumption Expenditures Price Index (PCEPI), from Haver Analytics.
Looking forward, the majority of bankers anticipate agricultural land values to stay this stable course. As such, 75% of bankers expect farmland values to be stable in the second quarter of 2019, 24% expect them to decline and 1% expect them to rise. 
Credit Conditions Decay
Agricultural credit conditions weakened again during the first quarter of 2019. There was "a continued working capital erosion for our overall customer base," reported an Iowa banker. 
For example, 50% of bankers observed lower rates of repayment for the first quarter of 2019 relative to the first quarter of 2018. Additionally, 42% of the bankers reported higher levels of loan renewals and extensions during this January through March versus the same period last year.
Credit tightening also continued in the first quarter of 2019, as 28% of bankers noted their banks required larger amounts of collateral for loans during the first quarter of 2019.
With the generally low commodity prices and weather disruptions, bankers said 2019 could end up being quite a challenging year for their farmer customers. 
With regard to 2018, an Indiana banker commented, "My customers were generally able to meet all their obligations and maintain their financial positions." But that banker also noted, "This year could get ugly." 
Read More
Midwest and Mid-South: Farmland Values Softer, Cash Rents Up