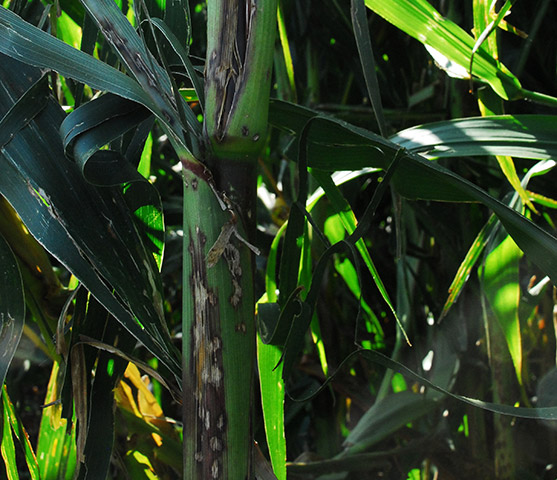 Widespread rains across the Midwest this week has brought on fresh concerns about standability in many corn fields.
Now may be a good time to evaluate corn for stalk strength, according to Stephanie Porter, an agronomist with Burrus. That's because there are several key factors that can affect corn root or stalk lodging, and it's important to review your fields for potential problems, she says.
"Scout an entire field for stalk quality, not just field edges," she says.
Porter also suggests sampling areas that have different soil types, soil drainage patterns, hybrids, rainfall and fertility – all of which can affect stalk quality.
"Pinch the second or third internode above ground level," she says. "If a stalk collapses easily, cut open the stalk and check for signs of disease or insects. Second, push on corn stalks. If they break, they could be more susceptible to stalk lodging."
If more than 10% of stalks appear compromised, harvest these areas as soon as grain is physically mature, and use a slower combine speed, Porter adds.
Knowing what has caused corn root or stalk lodging may help determine the best next course of action. Here are four common causes:
1.Weather – believe it or not, strong-enough winds can sometimes overcome even the best root development. Also, hail-damaged corn is almost certain to experience some stalk rot if the event happened after pollination.
2.Insects – corn rootworm larvae have been known to cause root lodging. And the Eurpoean corn borer can tunnel into the corn ear shank and cause ear-dropping, or tunnel into the stalk can cause stalk-lodging.
3.Diseases – several stalk-rot pathogens can infect corn roots or injured areas of the stalk. High incidences of foliar disease such as gray leaf spot and northern corn leaf blight can predispose corn to stalk rot.
4.Stress – any number of stresses can factor, including high plant populations, extremes in soil moisture, nutrient deficiencies or imbalances, drought, corn-on-corn rotations and more.
Stresses corn fields should be first on the list to harvest, Porter says.
"The longer that corn is left in the field, the greater the risk for root or stalk lodging due to wind, insects, disease or other factors," she says.
Click here for additional information on evaluating corn stalk quality. And in the video below, Purdue agronomist Bob Nielsen does an in-field demonstration about investigating stalk rot.