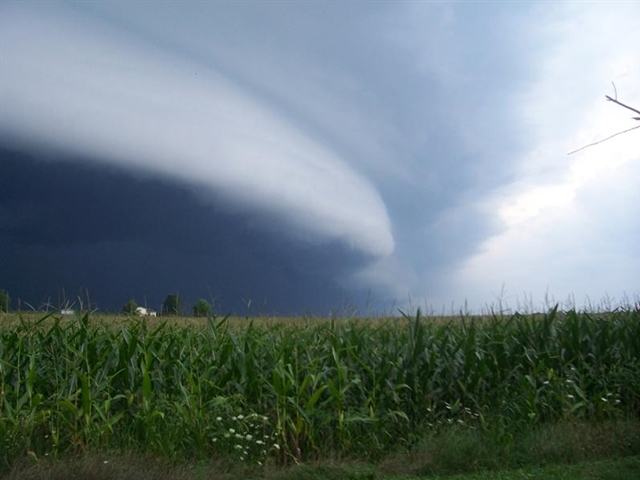 Interested in more detailed, local weather information than the default weather app provided by your smartphone? So are we. Here are a few of our current favorites:
1. Dark Sky. This paid hyperlocal weather app specializes in "down-to-the-minute rain predictions covering the next hour." If you're trying to determine whether the overcast sky outside is either going to leave you drenched or nothing but bluster, this is the app for you. You can even set custom alerts for daytime or nighttime temperatures, chance of precipitation, or wind speed. Another fun feature for weather junkies: "interesting storm" alerts for weather events across the U.S.  Downside: This paid app ($3.99) is only available for iPhone.
2. NOAA High-Def Radar Pro. Open up this paid app by WeatherSphere and you'll immediately see the weather radar for the entire U.S. You can zoom in on your location, of course, but that's child's play for this app. Click on settings, and you'll discover a world of customization, particularly under "Choose Layers." Once you're there, you can add custom layers like lightning strikes, recent wildfires, and the latest data from the U.S. Drought Map. Fun feature: You can bookmark specific locations and add them to your map, which one ag-focused iPhone Appstore reviewer found incredibly helpful. "We have some farmland out of state, where the severe droughts are occurring, and I've bookmarked each section of land so I can see exactly which pieces of land get rain (since the city itself getting rain or one piece of land getting rain doesn't mean another piece a mile away got rain)," this farmland owner wrote. This app is available for purchase on Apple ($1.99) and Android ($2.99) devices.
3. Mesonet. Oklahoma farmers and ranchers swear by this free weather app, which focuses on the Sooner State. In addition to the basics (temps, wind, precipitation), Mesonet features numerous map graphics that show soil moisture, soil temperature, current conditions, changes in dewpoint, and more across Oklahoma. Fun feature: the Mesonet ticker, which provides an approachable, friendly overview of weather observations and analysis. This free app is available for download for Apple and Android devices.
4. WunderMap. This colorful free app from Weather Underground aggregates the observations, photos and data from "weather enthusiasts" across the country and combines them with trained meteorologists. "After being raised in dry-land cotton country, I can't stop looking for weather information," wrote one AppStore reviewer. "I like Underground Weather so much that I bought my own personal weather station in order to contribute." Like other weather apps, you start with the default map of current conditions. You can focus on specific views using layers like U.S. weather fronts, regional temperatures, precipitation and even webcams. Weather Underground also offers the separate Storm and Weather Underground Forecast apps, which are more targeted offerings based on the rich WunderMap data. Fun feature: the Wunderphotos layer, which features the latest snaps from Weather Underground users and contributors. This free app is available for Apple and Android devices. 
What are your favorite weather apps? Let us know in the comments. Read more than 90 app reviews at www.AgWebAppFinder.com.