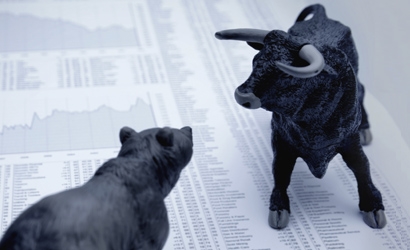 Are you bullish or bearish this year? Farm Journal economist Bob Utterback says there are four unknowns currently unresolved that could swing a lot of people one way or the other.
1. High state and national debt. Many experts say the current levels are not sustainable, and Utterback says there are three resolutions – one, grow out of it; two, inflate out of it; three, destroy your currency. (And No. 3 really isn't an option, Utterback says.)

A strong dollar puts pressure on grain prices, Utterback adds. And with the Dow at all-time highs, use equities as a general barometer, he says. "If you have grain in the bin unpriced, and equities get bearish, that could have a negative effect on commodities," he says. "You want to get in front of that tidal wave if it breaks."
2. Population heads to 9 billion. "This is the bull's greatest argument, and his or her ace in the hole," Utterback says. "We need more food, more energy – more everything."
As a counterpoint, Utterback notes that more foreign countries will shift policies to promote their own self sufficiency as the world population continues to climb, which in turn will create more competition overseas.
"China has already said they want to be self-sufficient in food production in the next 10 years," he says.
3. Crude oil price rebound. A long-term stay at current oil prices could help multiple sectors, including agriculture, Utterback says. But chances are it won't stay this low forever, he says.
"I'm trying to tell you to buy oil now and protect your input price," he says.
Utterback says it's reasonable to expect oil to climb back to $60 a barrel by this December and $75 to $80 in the next two years.
4. Weather. Keep tabs on the global warming debate as it continues, Utterback says. And while some forecasters are sharing bullish forecasts of a wet spring and dry summer in areas of the Corn Belt, it pays as a market planner to assume weather will fall somewhere in between extremes.
In the video below, Utterback shares a few additional market observations and pricing strategies.
This year's National Farm Machinery Show ran Feb. 11-14 in Louisville, Ky. Visit http://www.agweb.com/national-farm-machinery-show/ for complete event coverage.