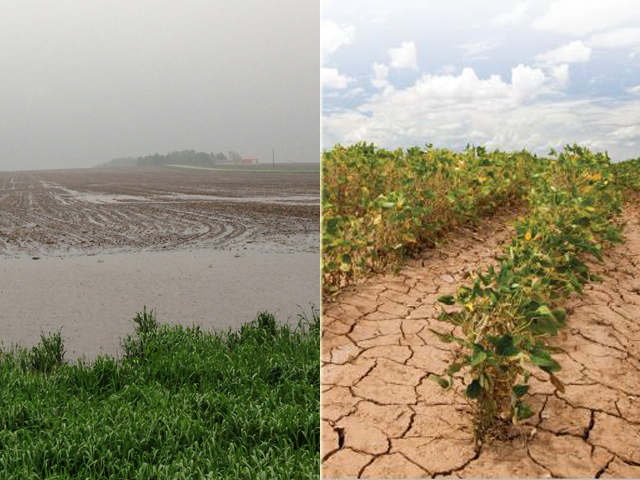 As a historical climatologist, Evelyn Browning-Garris of the Browning Newsletter checks the weather with an eye to the past and the future.
"There is enough data that we know the year-to-year weather in the Northern Hemisphere for the last 100,000 years," says Browning-Garriss, who uses her knowledge of those patterns to explain the climate of today—and tomorrow—for farmers and others. "You need to know what happens most of the time when you're facing these conditions."
And those conditions are in flux, according to Browning-Garriss, who recently spoke at the Crop Insurance and Reinsurance Bureau's annual meeting. "If the last few years have been exciting, it's because the Pacific has changed," she says. "When the Pacific changes, it changes weather patterns globally."
These paradigm shifts can be incredibly disruptive. "As you shift weather patterns, you increase disaster risk and exposure," says Browning-Garriss, who believes climate changes ebb and flow. "These people who want to cut back farmers' insurance are picking a heck of a time to do it."
Here are the weather patterns you'll want to watch and why.
A cooler Pacific. The Pacific Decadal Oscillation (PDO) is a mouthful to say, but it's also an ocean current that is likely to bring drier weather to the Midwest through its 15- to 20-year cycle. Browning-Garris says the PDO shifted in 2006 to a "negative" phase that she nicknames "Pretty Dry Oklahoma."  This pattern changes rain and snow patterns, boosts the chances of floods and droughts, and in the West and Great Lakes regions, "increases the probability of dry weather."
 
A warmer Atlantic. The Atlantic Multidecadal Oscillation (AMO) warms the North Atlantic and speeds the Gulf Stream on a 60- to 70-year cycle. This ocean current shifted in 1995, bringing more frequent and powerful hurricanes like Superstorm Sandy, hotter summers east of the Rocky Mountains, and colder, stormier winters and spring seasons. When this Atlantic pattern combines with the current Pacific pattern, it results in "dry weather in the West and the Great Plains," according to Browning-Garris.
 
El Niño. The warmer ocean currents of this shorter, 6- to 18-month weather cycle affect agriculture by bringing drought to some areas and rainfall in others. While one potential El Niño evaporated in 2014, there's still a 50% or better chance that the weather pattern could return. "A weak/moderate El Niño ... increases the risk of dry springtime weather in the eastern Corn Belt," says Browning-Garriss.
 
La Niña. This pattern, with its cooler ocean currents, typically brings drier conditions. "La Niña doesn't sneak up on you," Browning-Garriss says. "If you see a La Niña forming, it means drought in most of the U.S."
The impact of these weather events can be far-reaching.
For example, Browning-Garriss notes the connections between politically troubled regions of the Middle East and their climate challenges. "If you think it's tough here in the U.S., it's even tougher where agriculture is more marginal," she says. "When the Atlantic goes hot, you don't have a lot of rainfall in the Middle East, but it's evenly distributed. When the Atlantic goes cold, you get more rainfall in Iraq, Turkey and the eastern Mediterranean (and less in Iran) … If Iran has been irritable lately, part of it is because Iran has been desperate."
She also points to Syria, which has been involved in a civil war since 2011. "Guess what popped up there after three years of drought?" she says. "When you change temperatures, when you change climate, when you change rainfall pattern, you change agriculture and society around the world."