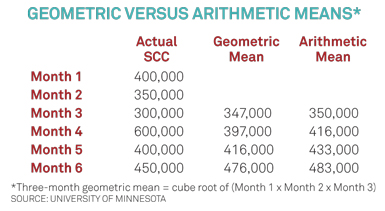 While the directive requiring that dairy exports to the European Union (EU) not be made with milk exceeding 400,000 SCC takes effect Oct. 1, the effective date is actually July 1.

That's because milk processors must certify that the milk they use does not exceed 400,000 cells/ml on a rolling, three-month geometric mean (and a maximum standard plate count of 100,000 bacteria per milliliter based on a two-month average). Being out of compliance in July will mean producers still have August and September to get their average down below 400,000 by Oct. 1.

But each succeeding month above 400,000 makes it that much more difficult to meet the standard. For example, if one month's SCC is 500,000, the other two months' SCC could not exceed 350,000.

Because of the math involved, a geometric mean is slightly lower than an arithmetic average, which actually is a slight advantage (see table). But the directive hits in the hot months of July and August, the most difficult months for high-cell-count herds to keep mastitis rates from climbing even higher. In fact, some Midwestern co-ops will issue warning letters in July to producers whose cell count for the month exceeds 400,000.

It all began quietly enough in January when USDA issued a "Notice to the Industry" informing producers of the coming changes. It wasn't until spring, when the implications of the change became clear, that processors became worried. One large co-op told Dairy Today that 5% of its Midwestern farms exceeded 400,000 SCC in all 12 of the preceding months.

But the history of the action dates back much earlier. In 1997, the EU lowered its regulatory cell count limit to 400,000 based on a geometric mean. Then, in 2004, it changed the regulation to say that the sampling of milk must be made at individual farms, and not from milk commingled in silos or at dairy plants.

USDA was given a copy of this change, but it went unnoticed by agency bureaucrats until last year, when EU auditors came to the U.S. and scrutinized dairy plant records.

In order to be in compliance, dairy plants will have to take a random sample of 10% of their farms' milk each month. While the chance of the same farm being selected in three consecutive months is low, plants will not risk having a farm out of compliance because it jeopardizes eligibility for export of the entire month's milk supply.

And while a plant might not even export products to Europe, byproducts such as whey, whey protein concentrates and cream could end up in products that eventually are exported. That's why fluid handlers, even though they sell all of their milk domestically, likely won't be exempt from the coming changes.

Segregation of high-cell-count milk to nonexporting processors is not an option. The reason: Virtually all of these plants now produce byproducts of some kind that are used as ingredients in an untold number of products that can potentially be exported. Buyers will now insist the ingredients they purchase are in compliance.

Even if a processor could be found who would accept the milk, the cost of segregation and transport to that facility would be prohibitive. Plus, high-cell-count milk would be considered "distressed," making it subject to huge price discounts.
Bonus content: