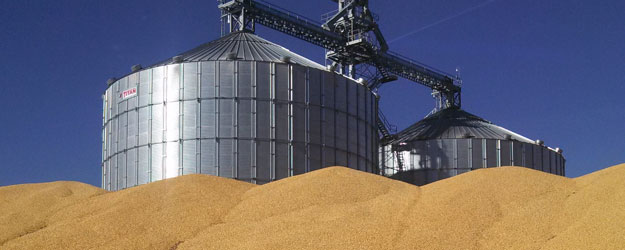 Corn prices will fluctuate slightly above $4/bu. through 2020, and corn acres will decline, a new report says. Strong livestock profits will generate growth in cattle and hog sectors, though prices will moderate from current highs.
Row Crop Price Outlook
For corn and soybeans, large U.S. and global supplies will push prices to their lowest levels since 2009, though modest recovery is likely after 2015, according to projections this month from the Food and Agricultural Policy Research Institute (FAPRI) at the University of Missouri.
Estimates call for farm corn prices of $3.89/bu. for the 2014/15 crop based on Aug. 15 conditions, more optimistic than some forecasts and higher than new-crop bids in many locales. FAPRI sees a slight recovery moving forward, with prices of $4.09/bu. for the 2015/16 marketing year and a gradual rise to $4.25 by 2019/20.
Meanwhile, soybean prices of $10.30/bu. are projected for this year's crop. The figure will dip to $9.64 for 2015/16. From 2016 to 2019, FAPRI calls for soybean prices between $10.11 and $10.69/bu.
Wheat prices are expected to be $6.27, which is 60 cents per bushel lower than in 2013. They will decline to $5.73/bu. in 2015/16 and fluctuate between $5.72 and $5.97 through 2019/20.
Livestock Price Outlook
For cattle producers, steer prices (total all grades) are forecast to be a record $150.42/cwt. for 2014, up $25 from last year. FAPRI forecasts a gradual price decline as supplies rebuild, from $147.45/cwt. in 2015 to $124.69 by 2019.
Pork barrow and gilt prices are forecast to be $75.96/cwt. this year. That's a strong recovery over the previous two years. Prices are forecast to fall to $66.93/cwt. in 2015, easing to a range of $55.37 to $59.17/cwt. for the rest of the forecast period.

"Reduced cattle numbers, animal disease problems and strong international demand are causing record cattle, hog and milk prices in 2014," the report says. "Supply response to these high prices and lower feed costs contribute to lower meat and dairy prices in 2015."
U.S. per capita meat consumption is forecast to rise from 198.6 million pounds this year to 208.6 million pounds in 2019.
Corn Acres to Drop
Planted corn acres are projected to drop 2 million acres in 2015 to 89.6 million. Acres will increase slightly, to the 91.8 million to 92.3 million acre range, throughout the rest of the forecast period.

Soybean acreage will decline in 2015 by fewer than 1 million acres, to 83.9 million acres. They are expected to dip further over the rest of the period, down to between 81.1 million and 82.2 million acres.

Wheat acreage will change little, from 56.5 million acres this year to 54.7 million acres by the end of the period.

Cotton acreage is forecast to decline from 11.19 million acres this year to 10.32 million in 2015, changing minimally through 2019.
Row Crop Returns Outlook
Despite the bearish price outlook, corn returns per acre will beat returns for soybeans, wheat and cotton. Corn returns over variable costs will be $288.30/acre this year and will range from $304.14 to $344.54 for the rest of the period, FAPRI says.
Soybean returns over variable costs will be slightly lower at $282.38/acre this year and between $239.31 and $296.32 over the next five years. Because of this, the soybean/corn price ratio is set to decline from 2.65 this year to 2.36 in 2015 before increasing slightly.
As for wheat, returns over variable costs will be $144.72/acre this year before ranging between $133.62 and $146.35 through 2019/20.
Row Crop Demand and Exports Outlook
From this year to 2019/20, FAPRI sees modest increases in corn demand, from 13.6 billion to 14.3 billion bushels. Ethanol and feed demand remain relatively flat, and exports will post modest increases from 1.8 billion to 2.2 billion bushels.

Soybean exports are expected to change little over the forecast period, from 1.7 billion bushels this year to 1.8 billion bushels by 2019/20.
Wheat exports also are forecast to increase slightly, from 938 million bushels this year to 1.07 billion bushels by 2019/20.
---
Want more? AgWeb readers are sharing fresh marketing insights every day. Click here to join the conversation, or to start your own.