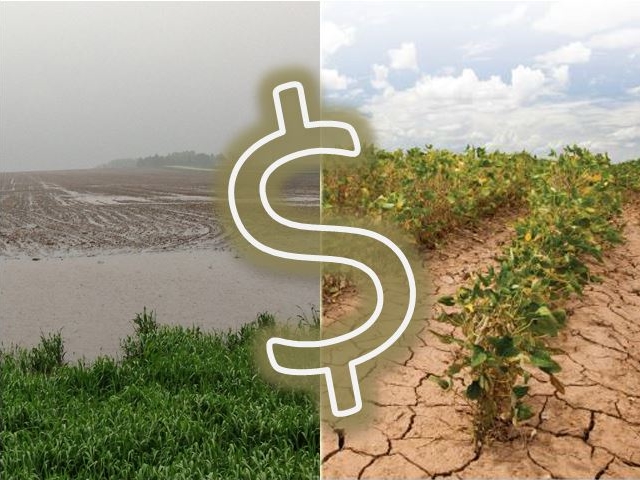 Stellar yields, dismal commodity prices or both ensured many producers did not get payments for 2016 crops. Even if the outlook is the same for 2017, farmers still need to work closely with their crop-insurance agents to try to secure at or above-breakeven profitability with any available tools.

"It's very, very important that they take that opportunity once a year to review that policy," says Sherri Tomhave, crop insurance product and training specialist with Farm Credit Illinois. This annual review is pertinent to the accuracy of the policy regarding all entity and personal information, as well as the actual coverage attached. Examples to consider are whether the people with substantial business interests in the policy have changed.

Make your decisions before the federal government's spring average price is locked in this February and as global fundamentals tilt away from U.S. producers, particularly on the soybean side of the balance sheet.

"Soybeans have considerable downside price risk under normal Northern and Southern Hemisphere yields," says Jamie Wasemiller, an analyst and crop insurance agent at the Gulke Group in Chicago. 

Here are five tips farmers should consider this winter. 

Buy the harvest price option. 
Priced at 2¢ to 3¢ per bushel, the harvest price option is the closest thing to a cheap call option that producers can buy, Wasemiller says. If harvest prices go above the spring average price, producers can realize higher revenues on their 2017 crops. The Harvest Price Option is there to help farmers in scenarios that mainly involve low production. 

Purchase an 80% or 85% policy when possible. 
Buying a federal policy with a higher coverage level is simply good risk management, Wasemiller says. Policies at 70% or 75% coverage leave too much risk on the table. "The more crop insurance I can buy with a government subsidy … [the] less bushels I have to protect on my own," he says. Producers can consult their agent about whether it makes sense to reduce coverage of individual crops from 85% to 80% and add a product such as Whole Farm Revenue Protection, which covers numerous crops and livestock under a single blanket policy. 

Evaluate enterprise units and trend adjustment. 
Enterprise unit structure can be applied to a specific county crop, allowing producers to maximize subsidy dollars. "The advantage is I'm going to manage my premium by taking on more of that risk," Tomhave explains. In other cases, trend adjustment can be applied for a per-acre fee to boost a farm's actual production history (APH). 

Consider buying alternate pricing methods. 
These private products are offered by almost all crop-insurance agents and can supplement federal multi-peril crop insurance (MPCI), Wasemiller says. Although producers will pay more for these products because they are unsubsidized, they can be beneficial by providing a spring price higher than the government-guaranteed price. "You need to weigh the cost versus the reward," he says. Producers should calculate 2017 breakeven for crops as best as possible, then lock in insurance rates that help them achieve revenue at breakeven or better. 

Weigh whether to decide for 2018, too. 
During the June-through-August time frame this summer—when commodity prices tend to be at their highest point in the year—go ahead and look at purchasing a private alternative pricing method product at those price levels for your 2018 crops, Wasemiller recommends. This could help you secure a 2018 spring average price higher than the government price. Tomhave says that can be a good move once you've evaluated subsidized coverage to ensure you are maximizing the benefits it provides. "They are definitely value-added tools farmers need to be aware of … so they can make a better decision on where [they] want to spend those dollars," she says.
Hear Jamie Wasemiller talk crop insurance Jan. 26 in Chicago. Visit TopProducerSeminar.com.
---
Thank you to the sponsors of the 2017 Top Producer Seminar!
Premier Sponsors: Advance Trading; BASF; Bayer; Beck's; Cargill; Case IH; Channel; CropZilla; Dow AgroSciences; DuPont Pioneer; ESN; FarmersEdge; Farmers Business Network; John Deere; K-Coe ISOM; Soybean Premiums; Top Third Ag Marketing; Verdesian.
Co-Sponsors: AgYield; CliftonLarsonAllen; Gulke Group; Rabo AgriFinance; Zaner Ag Hedge. 
Supporting Sponsors: Alltech; BMO Harris Bank; Transition Point Business Advisors