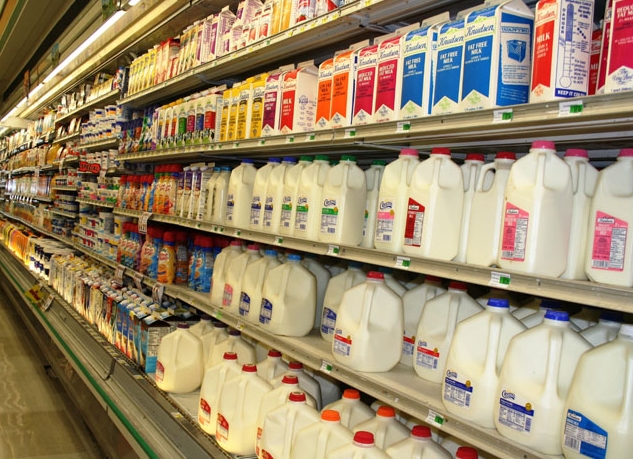 2014 may have been a year of record-high milk prices, but it also carried some lessons for the dairy industry:
Lesson #1: The market falls faster than it rises.
Many in the dairy sector thought booming global demand for dairy products would keep spurring prices ever higher. And, in fact, that did happen for most of 2014: Dairy prices rose steadily to record levels, with Class III futures surpassing $24. But in early October, "the market fell off a cliff," says market analyst and commodity broker Robin Schmahl. "We saw a near-record drop in cheese and a huge decline in butter."
For now, USDA projects 2015 Class III prices at around $16.95, a drop of more than $7 per cwt. from this year's highs.
Lesson #2: You still need risk-management discipline in a rising market.
"Many dairy producers who used futures and options during 2014 left money on table largely because the milk price escalated to levels never seen before," dairy economist Mary Ledman says. "The level of money left on the table tends to correspond to a producer's regret. It's important to have a disciplined approach to risk management. Producers who were encumbered by their guilt likely lost out on the opportunities for locking in very good margins in 2015."
Stewart-Peterson market advisor Bob Devenport agrees. He believes many producers were not managing the upside of the market and likely lost $4 to $5 per cwt. in market opportunity. "You have to be prepared for any scenario," Devenport says. "Marketing is not as easy as just selling milk from January to December and then calling it quits. You need a plan in place in manage opportunity."
Lesson #3: Despite global volatility, U.S. dairy exporters are committed to foreign markets.
"In 2014, U.S. suppliers showed more than ever before that they are in it for the long-haul, rather than just being opportunistic exporters who sell when the price is right and we have product to sell," says Alan Levitt of the U.S. Dairy Export Council.
U.S. dairy prices were dramatically higher than world prices for most of the year, yet U.S. dairy exports in July-October only fell about 10% from the prior year, Levitt says. That's a sharp difference from the first three quarters of 2009, when the U.S. was similarly uncompetitive and U.S. export volume dropped a whopping 25% from the prior year.
"A lot of people were saying U.S. exports would fall off the table, but they haven't," stresses Levitt. "In fact, export volumes in October were actually higher than September. They're certainly down, and they'll probably continue to lag, but they're holding up better than many had thought given the disparity in our pricing. And note that we've held up even in a year when New Zealand and Europe have a lot more to sell."
This year's U.S. export volumes demonstrate, Levitt says, that:
U.S. suppliers are more strategic in their approach and commitment to maintaining their export volumes, even in the face of difficult conditions.
It's not all about price. "We appear to have established a value proposition in which customers will buy from us because of the intrinsic value of our products and service and not just because we're the cheapest on the block," he notes.
Lesson #4:  The government isn't making it any easier for dairy producers.
What should have been the 2012 farm bill finally became, after two years of Congressional delay, the 2014 farm bill. For dairy producers, the new farm legislation did away with the Milk Income Loss Contract (MILC) and instead delivered the Margin Protection Program (MPP).
Maybe dairy producers have been uncertain about the program's many choices or slow to sign up. Already, USDA has extended the MPP's sign-up twice, with the latest deadline set for Dec. 19.
"The fact that dairymen need to pay the government for increased protection is also a new and different wrinkle," says Ron Mortensen, a commodity trading advisor and principal of Dairy Gross Margin, LLC, a firm that specializes in the Livestock Gross Margin for Dairy program. 
Now that the MPP's details are known, it's clear that it's truly a program for catastrophic events, Mortensen adds. For 2015, he believes dairy producers may have decided that MPP sign-up does not provide a financial benefit.  
"MPP has no value in terms of managing risk," he says.  "We'd have to have a very catastrophic event to get any payment. In a broad sense, you can't use the $4 MPP to expect to do a marketing program."
Lesson #5: Consumer preference for quality dairy products is real.
Consumption of most dairy foods just keeps on growing, according to Jerry Dryer, editor of Dairy & Food Market Analyst, an industry publication.
Growth in the cheese business continues to expand. On average, Dryer says, more than 300 million people are each eating an extra 0.3 oz. of cheese a day compared to a decade ago.
Per-capital use of butter has increased by 1 lb. during the past 10 years and usage now totals 5.5 lb. per year.
Dairy's newest star – yogurt – climbed in per-capita consumption to 14.9 lb. in 2013, up 73% from 10 years ago.