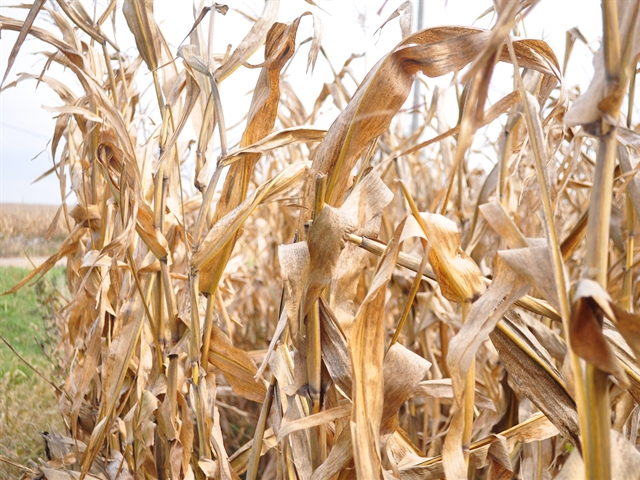 As the year comes to a close, trading is thin and the markets are quiet. But these five grain market lessons came through loud and clear in 2014.
Lesson 1: American farmers can produce staggering amounts of corn and soybeans.
The final numbers are still being tweaked by the USDA, but according to the agency's most recent estimates, American farmers harvested record crops this year. The current estimate? 14.407 billion bushels of corn, with an average yield of 175 bushels per acre.
"If we'd had perfect weather, I think we could have done an average of 180 bushels per acre nationwide," says Alan Brugler, president of Brugler Marketing and Management in Omaha, who also credits the advances in seed technology. "I think we are finding out that the genetics are there to produce that type of record crop."
Soybeans, too, surged, as U.S. farmers harvested an estimated 3.958 billion bushels of soybeans, with an average yield of 47.5 bushels per acre. "I'm not an agronomist, but beans finally made a good leap forward on yields this year," says Gregg Hunt, a broker at Archer Financial Services in Chicago, who says he was glad to see beans bust through its traditional average yields in the low-40s.
Will farmers produce another bumper crop of soybeans and corn in 2015? It's hard to say. "Sometimes it takes a decade to break a yield record," says Hunt, who has followed the grain markets for more than 30 years.
Lesson 2: The world wants American grain, especially when it's cheap.
The United States shipped $152.5 billion worth of agricultural products in fiscal 2014, according to USDA numbers announced this fall. That's a new record, but it's worth noting that the figure doesn't even include the flood of exports that happened in October and November. "One thing that stands out to me is the unbelievable amount of grain we shipped in the past two months," says Hunt. "Everyone, including me, has been surprised by the Chinese appetite" for grain.
Who's eating all that grain? Chinese pigs, for one. "It's the modernization of their hog industry," explains Hunt, who says the country's pork industry is changing from small rural farms with perhaps a dozen pigs to large-scale hog operations.
Lesson 3:  Seed technology is both an opportunity and a challenge for global markets.
New traits and better genetics may be bringing American grain farmers higher and higher production, but those benefits are also causing some export headaches. Just ask Syngenta, which has been dealing with China's rejection of U.S.-originated Agrisure Viptera corn. While China is a minor importer of U.S. corn, its decision to shun the GMO variety disrupted the corn markets. Finally, in December, the MIR162 trait was accepted for import into China.
While the MIR162 issue appears to be resolves, the situation raised questions about the ability of the U.S. agricultural supply chain to effectively handle such situations and segregate commodities to meet end users' requirements, whether the product is corn, soybeans, or meat.  "I think this is a big issue as we go from [corn or other products] being a pure commodity to a commodity with descriptives," says Brugler. "They're really not commodities anymore—they're products."
Lesson 4: Farmers can be patient sellers.
As corn prices plunged in early October ($3.2475 for cash, $3.34 for March '15 futures, according to the Chicago Board of Trade), many market-watchers expected the record harvest to push prices even lower. After all, American farmers were harvesting a bumper crop, grain elevators were full, and they would need to unload that grain, right? Wrong.
Instead of giving their grain away, farmers built more storage, started bagging, piled it on the ground, and sat tight. The result? Corn prices rallied significantly, climbing to $4.23 for May '15 corn futures on Dec. 26. So did soybeans, which in late September fell as low as $9.1875 for January '15 futures. But as 2014 came to a close, those January soybean futures were up to $10.475 per bushel.
Lesson 5: Our infrastructure may not be up to the job of record exports, record crops, and record oil.
Transportation has always been a challenge for farmers in the Upper Midwest, and this year was especially tough. In North Dakota, where grain must compete with the Bakken oil on the tracks, the weak basis shoved corn prices below $1.80 per bushel this fall.
"It was a perfect storm," Brugler says of this year's transportation situation. "We had record volume, additional competition from oil, and bad weather, which slows grain movement. I think it was probably as bad as it gets.
But, he adds, "it highlights the fact that the infrastructure is not necessarily there to support" record grain production.  
Of course, rail isn't the only way to transport grain. The Mississippi and the rest of the inland waterway system carry millions of bushels of corn and soybeans to ports on the Gulf of Mexico for export. But that system is aging, with hundreds of millions of dollars in maintenance needs, and lockmasters are already concerned about next spring and how they will move 2014's record crop once farmers start selling.