Good records, videos, honesty and the right price go a long way
What if I told you I could help you make some extra cash? Most people would be all ears. If you have used equipment to sell, listen up. For starters, think of your equipment as an investment, even if you don't plan to trade or sell any time soon. Then, focus on the following five points to maximize machinery resale value.
1. Keep meticulous records. Every tractor, combine, planter, skid steer, etc., you own should have a paper trail. From the purchase agreement to the maintenance log, hold on to those records in a dry and tidy place.

Detailed records are valuable—and it's important to leverage that history when the time comes to sale the piece of equipment. Whether privately or at auction, your ad or sale bill should detail "eight years of records available, every oil change noted, 16 pages of documents," or something along those lines. Include pictures of these records online with the glamour shots of your tractor.
2. Make a video. While it might seem odd, it's worth your time to shoot a video of your equipment in action. I'm not talking Hollywood quality; a 30 second cell phone video will do. If you can, it doesn't hurt to include your nice machine shed and favorite grove of trees in the background. 

Take it a step further and go on camera yourself. Talk about when you bought the John Deere 4440 with 1,200 hours in 1985 from your neighbor, Francis, who's been a friend since grade school. Tell viewers how you used the tractor on your 800 acres, pulled it in the shed every night and waxed it every winter. 

These videos have the power to emotionally engage potential buyers. They're not just looking at a nice John Deere 4440, that's "Joe's 4440."

Some auction services are beginning to offer preview videos that go beyond firing up the tractor to include an interview with the seller. For example, at Terry G. Ruegge's farm estate auction on Jan. 24, 2014, in O'Neill, Neb., the video feature proved to be effective. In addition to a nice sale bill and pictures of the equipment on the website, Stock Auction Company shot two short videos. One video featured Terry's wife, Gloria, and son, Dave, talking about Terry's love of farming and International tractors. In the second video, Gloria took the 1975 International 1466 black stripe tractor with 8,004 hours for a spin. At the auction, the tractor sold for $14,500, the second highest auction price in 13 years. 
3. Be upfront with buyers. Honesty is always the best policy. When folks call on your ad, tell them about any issues with the machine. Potential buyers appreciate transparency. I've seen an auctioneer give the mic to the seller who notes an oil leak or transmission issue—and the machine still sells for a strong price. 
4. Prioritize your ad. Are you the first or second owner? Lead with that truth in the classified or auction bill. If selling privately, always list an asking price. Potential buyers simply skip over listings with no prices. 
5. Price it right. No one wants to sell used farm equipment for too little or price it so high people just pass it by. This is why I've been compiling auction price data for more than 25 years—so you can know what equipment is really worth. List it in the right range, and buyers will respond. You might not need the full-year subscription to www.MachineryPete.com, but you can buy a one-week subscription for $17.95.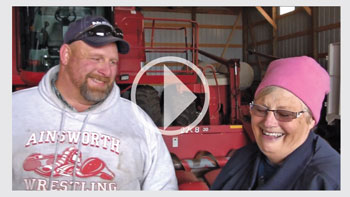 Videos provide a way to personalize equipment. Listen to Gloria and Dave Ruegge tell about their husband/father's love for International tractors.