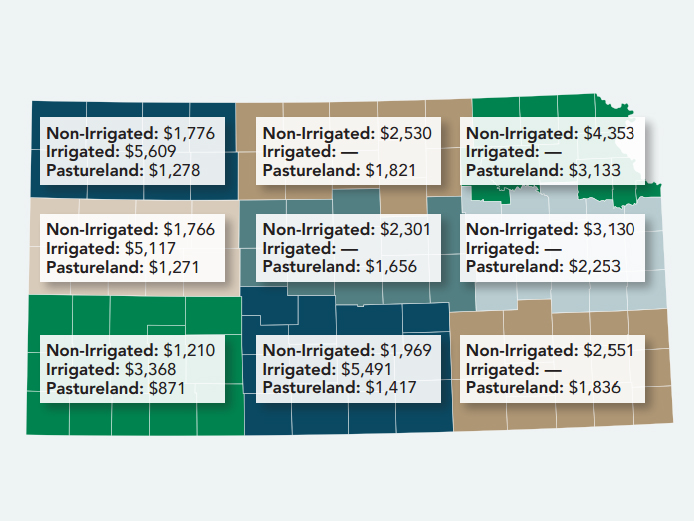 The No. 1 driver for farmland values in Kansas is profitability in the ag sector. After a multiyear run of strong farm income, farmers in the Sunflower State are now facing a potential fourth straight year of poor returns, says Mykel Taylor, ag economist at Kansas State University.
"In 2015, our dryland crop farmers had a net farm income of $4,500," Taylor says. "Two years prior, we were at net farm income of about $170,000—that's a huge drop-off in a very short period of time."
In 2016, farmers received a reprieve from low grain prices in the form of strong yields for major crops such as corn and wheat. Yet, Taylor says, farmers saw low or negative net farm income. What does this mean going forward? "If we return to average yields with the current prices, it will be tough in 2017 to turn a profit," she predicts.
Dramatic Value Drops
Taylor and her team crunched recent sales data from the Kansas Property Valuation Department and put it through several filters to estimate county-level market-based land values.
In 2014, Kansas land values peaked, with an average per-acre price of $3,300. For 2016, the state-wide average price is $3,000 per acre, a 10.4% decline from 2015. 
Non-irrigated land dropped in value by 17%—the largest drop for all land classes. Irrigated land declined 12% and pasture land dropped 8%.
Pasture land held the steadiest because many cattle ranchers are still in expansion mode, Taylor notes.
The long-term indicators point to further deterioration in values, Taylor says. Projected income on a per-acre basis for Kansas farmers is $46 for 2016 and is expected to stay below $50 for the next few years.
"That equals a projected average per-acre land price of $999, a decline of about 50% from our peak in 2014," she says. "That brings us down to where land values were in 2006. It will take a few more years to reach the bottom of the correction. This year could be possibly one of our worst years in terms of profitability."
Land sales dropped 18% in 2016 compared to 2015, Taylor says. In 2014, the state saw 2,333 sales, 2,502 sales in 2015 and 2,117 sales in 2016.
"The drop is not too surprising given that as prices were starting to soften, we had some sellers willing to put ground up to see if they would get a good price," she says. "If they didn't, they didn't have to sell."
Unenthusiastic Farmland Buyers
Overall, Taylor says, farmers are the biggest buyers of farmland in Kansas.
"When farmers are reluctant to buy because they are trying to guard their liquidity, demand falls," she says. "That drop in demand isn't likely to be sufficiently supported by outside investors."
For more information on Kansas land values, rental rates and more, visit www.agmanager.info/land-leasing.
More land news is included in every issue of LandOwner Newsletter. Try it free here.