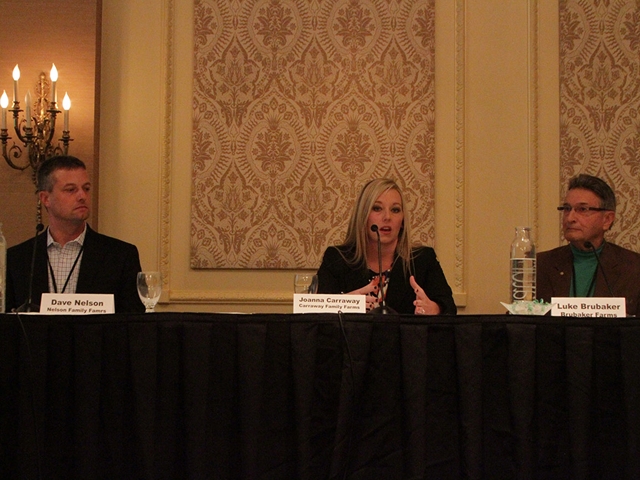 Don't let another day pass without implementing these insightful tips and suggestions for your farming operation.
Young farmers are at an interesting crossroads. The last few years have been extremely profitable, but current forecasts show that trend reversing.
"There are definitely some challenges ahead of us," says Moe Russell, president of Russell Consulting and a Farm Journal columnist. "But I'm not as discouraged as a lot of people are. Young farmers have tremendous opportunities."
Russell says these challenges can be overcome, but farmers must have a plan. "With a good plan, farming is easier and more fun. Plus it reduces stress and you can worry less about competition."
Russell is one of many ag experts who spoke to 150 young farmers during the recent Tomorrow's Top Producer conference in Chicago, Ill. Read the stories below to see how you can continue to improve your operation and handle any challenges ahead.
Creating your farm's brand is an important business decision that can impact everything from your desirability as an employer to one factor in what you pay for inputs and whether you are top of the list of potential renters of farmland.
"Your brand is reputational capital," says Brett Oelke, agricultural business manager educator for the University of Minnesota and owner of Innovus Agra LLC. The question for producers, he says, is whether they are going to manage their farm brand or let it occur on its own. Read more.
Times are changing in agriculture. The past few years have shown record prices, but now corn and soybean prices are near break-even levels for many farmers.
As these factors change, Rod Osthus, president of the R.C. Thomas Company, a seed sales training firm, says producers need to adapt. "Do you know how many businesses and farmers are caught in the paradigm of the 20th century?" he asks. Read more.
Grain and oilseed prices have taken their lumps in recent months, particularly corn, but for producers well positioned with strong working capital, the future is a bright one. "This is a phenomenal growth industry," says Mike Boehlje, ag economist at Purdue University. Times are going to be "more turbulent," however.
Use these eight strategies to help you prosper during these volatile farming times. Read more.
Auction prices for used machinery stayed strong through the end of 2013. "I was thinking values would probably be flat, given the more profit-challenged environment we're in," says Greg Peterson, who tracks the equipment market and is Farm Journal Media's used equipment values expert.
If you do want to add some new iron to your operation in the next few months, here are Peterson's top tips. Read more.
The landlord-tenant relationship is vital. And, like any relationship, you must invest time and effort to keep this relationship strong and beneficial for all involved.
Farmers who are honest and good stewards of land are who landowners want to rent to, says Mark Gannon, owner of Gannon Real Estate & Consulting in Ames, Iowa. Read more.
View more than 25 presentation PDFs from the 2014 Top Producer Seminar and Tomorrow's Top Producer conference.
For more information on the Top Producer Seminar or Tomorrow's Top Producer events, visit www.TopProducerSeminar.com. 
Thank you to the 2014 Top Producer Seminar sponsors:
Premier Sponsors: Agrigold, Apache Sprayers, BASF, Bayer CropScience, Cargill, Case IH, Challenger, Dow AgroSciences, DuPont Pioneer, ESN, Firestone, Koch Agronomic Services, RCIS, SFP, Syngenta, Top Third Ag Marketing
Co-Sponsors: Advance Trading, CliftonLarsonAllen, The Gulke Group, Kennedy and Coe, Michelin, Novozymes, OPI Integris, Soybean Premiums, Wyffels Hybrids
.................................... 
Register now for the 2016 Tomorrow's Top Producer business conference happening June 16-17 in Nashville!