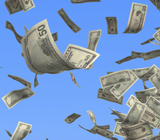 Sometimes it is the simple things that really make a difference. Basis is a simple concept: the cash price minus the futures price. But in many cases, understanding how to use that relationship in marketing makes the difference between a good price and a great price for a given crop.

"Tracking basis at local delivery points is far more critical than watching the CBOT," says Joe Nichols, who farms near Cadiz, Ky. "You will almost never find grain marketing rewarding you to establish the futures and basis prices on the same day, because normally if futures are high, basis will be low and vice versa."



Let's look at five ways you can use basis to improve your sales results.

1. Choose a Delivery Location. At the most basic level, basis determines which buyer offers you the best price on a given day.

2. Store or Deliver. "If you don't think basis will improve, you might as well sell the grain now—and buy a call option or futures contract if you think the futures price will rise," notes Carl German, University of Delaware Extension grain marketing specialist.

3. Cash versus Futures. Strong basis favors cash sales or contracts that lock in basis; weak basis favors pricing techniques that let you wait for basis to improve. "This might be especially true when pricing in the future, as an elevator or other buyer may apply a large risk premium to advance purchases," German says.

4. Compare Cash Contracts. Many grain elevators and other buyers offer a menu of contracts that allow you to lock in both futures price and basis, futures only (hedged-to-arrive) or basis only. By breaking out the basis component from futures, you can choose a contract that matches your outlook for each.

5. Unusual Opportunities. A basis bid that's unusually strong or weak may be a signal that your buyer is in a special situation. This can open a door to you to offer a service they'll pay for, such as immediate delivery or a certain quality.

For example, "sometimes, when the river freezes, farmers just below the freeze will have a chance to see a better basis, at least for a short time," Nichols says. "Monitoring such short-term issues reveals where extra profits are hiding."

Click here for a matrix showing how to "Choose a Pricing Method Based on Your Outlook".




---

Top Producer, November 2009