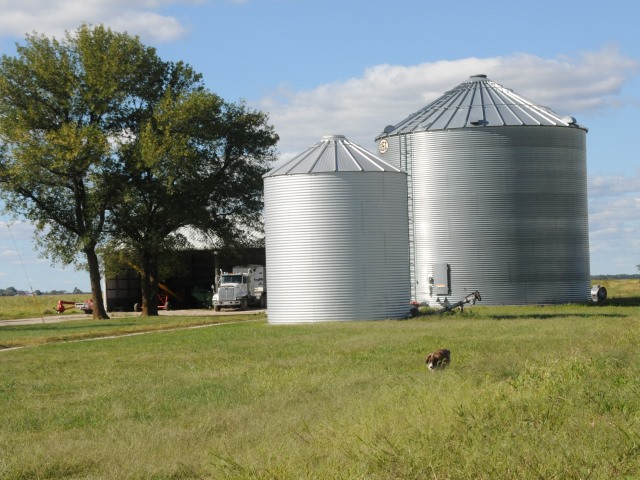 On-farm storage definitely can help your harvest efficiency, but too many farmers are leaving money on the table by keeping grain in the bin indefinitely.
"Having adequate on-farm grain storage improves your harvest efficiency," says Steve Johnson, farm management specialist with Iowa State University Extension and Outreach in central Iowa. "But I don't think the majority of farmers have improved their marketing skills the past few years other than leaving more time for futures prices and basis to improve."

If you want to boost the return on your grain bin investment and your farm's profitability, there's plenty you can do. Here are a few recommendations.
Before you expand your storage, look at your farm's finances. What is your profit margin? How much and when are your cash flow needs? Is building more on-farm storage really the best use of your limited working capital? Deciding whether to expand your grain storage is "not a one-size-fits-all" situation, according to Johnson.
Consider your needs. Is a grain bin a better investment than a new combine? Jerry Gulke of the Gulke Group thinks so. "You need to be proactive and plan ahead with on-farm storage," says Gulke, who farms in Illinois. "It's more important (to your bottom line) than a long green/red machinery line."
If you've already added grain storage, integrate that information into your marketing strategy. Rather than selling grain because you've run out of space or you need cash, plan ahead to use your bins to make grain sales that take advantage of historical basis trends and other supply and demand patterns in your area.
Work your grain merchandisers and learn to use a variety of marketing tools. When can you lock in the best basis, perhaps using a basis contract? When should you capture the futures carry using a storage hedge?  These basis contact and even minimum price contracts are underutilized. "More farmers can use on-farm grain storage to capture basis, especially for corn" says Johnson, who recommends farmers lock in an attractive basis and settle the final futures price with their grain merchandiser before May 1 or July 1, when you have a better chance to capture the higher futures prices.
Pay attention to seasonal futures prices and basis patterns, and act on them. "The majority of the time, you will see the highest futures prices in the spring," which you can use to capture both the carry and the seasonal bounce in the market, says Farm Journal Economist Bob Utterback of Utterback Marketing Services in New Richmond, Ind. "The greatest lows typically happen in September and October, which is when end users typically buy their grain."
Be pragmatic in your pricing expectations and make incremental sales more often.  These smaller incremental sales make more sense than waiting to sell lots of bushels at once, but can have a big impact on your overall profitability. "Most farmers don't think like elevators," Utterback says. "But elevators make something on every transaction. Sometimes it's good, sometimes it's bad, but if a farmer managed his basis and carry like an elevator, he could net almost as much from the grain sale as he could from the actual production."
Is this more work than filling the bin and shutting the door? Absolutely.  But market analysts and university specialists suggest farmers need to update their approach for today's lower-priced markets.