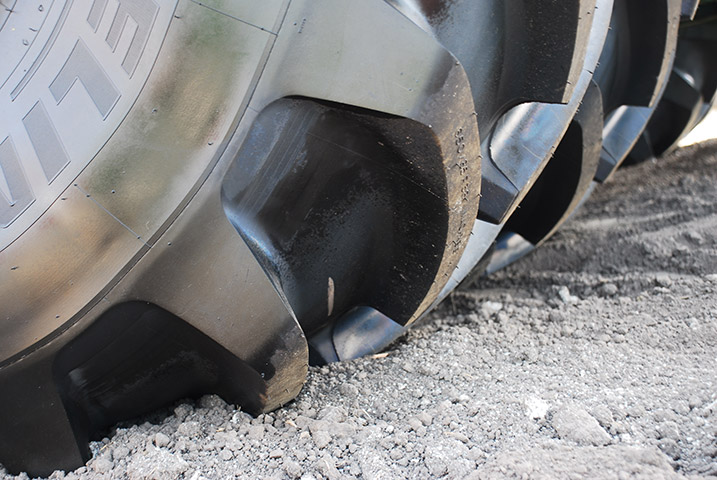 As farming equipment gets heavier, farmers look for ways that extra weight won't end up crushing their yield expectations. Selecting the right tire is one great way to minimize soil compaction – but it isn't the only way, explains James Crouch, farm segment marketing manager for Michelin Agriculture tires.
"Lower-pressure tires produce a larger tire footprint, which distributes the weight of the machine over the largest area possible to reduce compaction," he says. "In addition, a larger tire footprint provides excellent traction in the field, which can improve the fuel economy by reducing slippage."
Crouch serves up five additional ways farmers can limit soil compaction in their fields:
Check and maintain proper tire pressure as temperatures change throughout the growing season. This is especially important in the spring if you purchased new tires or equipment last fall or winter, Crouch says. Every ambient air temperature change of 9-10 degrees can raise or lower tire pressure by one psi.
Reduce total axle load by operating the lightest possible equipment for each application. The equipment will still need to efficiently transfer horsepower to the ground with minimal slippage, Crouch says, and the total machine weight should conform to manufacturer specifications.
Limit trips through the field and reduce the area of the field where equipment operates. Keep heavy machinery in the same "lanes" through the field each season. Only these controlled traffic lanes become compacted, sparing soil between the lanes, Crouch says.
Use duals and large-diameter tires. The larger surface area can help reduce tire pressure against the soil.
Use cast-iron ballast instead of filling tires with liquid ballast. Liquid ballast changes the flexion of the tires and results in a smaller footprint.
"Proper tire management and other practices can help reduce soil compaction, even though it can't be eliminated totally," Crouch says. "Protecting the soil is one of the best investments farmers can make to improve their crop performance and their bottom lines."
What's your best advice for limiting soil compaction? Share your thoughts on the AgWeb discussion boards.