Between 2009 and 2018, the average value of U.S. farm real estate increased a dramatic 50%. Since then, values have leveled off, and that looks to be the trend for the next few years, according to the 2019 U.S. Baseline Outlook compiled by the Food and Agricultural Policy Research Institute (FAPRI) at the University of Missouri.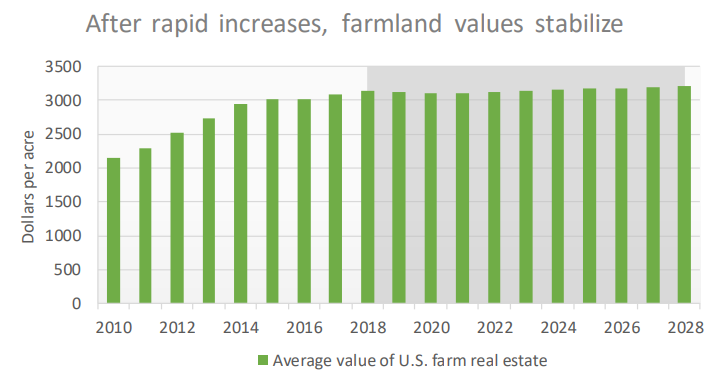 Source: FAPRI
In 2019, the farmland market continued the steady-as-she-goes trend of recent years. 
"The supply of ag land on the market remained lower than average and prices for good quality cropland held fairly steady," says Randy Dickhut, senior vice president of real estate operations for Farmers National Company in Omaha, Neb. "Land values in 2019 once again bucked the prevailing depressed mood in agriculture to hold steady or even increase slightly in some instances."
Sure, you still heard of those mind-boggling, high-dollar land sales. But those were few and far between, and not reflective of the entire land market.
"You can't paint with a broad brush right now," says Doug Hensley, president of real estate services for Hertz Farm Management in Nevada, Iowa. "You may have some broad trends emerging across a large region, but you really need to understand the localized factors in order to make a good decision – both in buying and selling."
Here are just a few of the forces pushing and pulling the U.S. farmland market.
1. Interest Rates
Interest rates moved lower in 2019, when most thought rates might turn higher, Dickhut says. 
"Interest rates are historically low and are poised to remain so for the foreseeable future, which is supportive to land values on multiple fronts," he says.
2. Type of Buyer
Farmers buy 80% of Midwest row-crop farmland, and they have lower return expectations than investors, says Steve Bruere, president, Peoples Company in Clive, Iowa. 
"We saw more investor participation in sales in 2019 than we've seen in the past," he says. "Farmers are being less aggressive, and investors are being more aggressive. I'm really watching that 80% number; if that number slips, then I think the land market starts to slip. As long as farmers show up and bid, the market will stay resilient."
3. Supply of Land
For 2019, a low supply of land for sale kept prices mostly steady, Dickhut says. 
"We are seeing a small increase in the amount of land we are selling, which is from some larger landowners deciding to sell now and from increased seller interest in several regions," he says. "At this time, demand seems to be adequate to absorb this small increase."
4. Commodity Prices
The current commodity price trend seems to indicate a stabilizing agricultural economy, says R.D. Schrader, president of Schrader Real Estate and Auction Company in Columbia City, Ind.  
"However, variables impacting prices such as trade policy and biofuel policy will be big factors going forward," he says. 
Unless there is a fundamental change to commodity prices, Bruere says, the land market will likely remain stable.
5. General Economy
Economic development in Midwestern cities is impacting farmland values, Hensley notes. 
"For instance, there's a ton of economic development around Des Moines, Ames, Iowa City and Cedar Falls/Waterloo," he says. "That's leading to a high number of 1031 exchanges, which has added another layer of competitiveness."
The general economy has been expanding for over 10 years, Hensley says, which cannot continue indefinitely. 
6. Policy 
Many of the issues affecting farmland values are geopolitically influenced, Schrader says. This includes trade agreements and the value of the U.S. dollar.
"Until concrete results are solidified in trade negotiations, I would expect farmland values to continue their steady to slightly downward trickle trend," he says. "Finalized trade negotiations that significantly impact long-term outlooks, either positively or negatively, will impact land values."
"The performance of the U.S. and world economies is being watched for any further depressing effect on agricultural demand," Dickhut adds. "Normally, ag and land values are counter cyclical to other investments, but how the world's trade and economies perform over the next several years could create additional challenges for U.S. ag."  
7. Alternative Crops
Interest continues to grow for alternative crops. Hensley is keeping an eye on farmers' decisions around investments in non-traditional crops, especially hemp.
"We'll have a better view of whether those will impact profitability in 2020 than what we currently understand," he says. "It's something to watch."
Read More 2020 Outlooks
Stock, Trade Uncertainty Impact Corn Optimism in 2020
Could Wheat Acres Hit a 110-Year Low in 2020?
Fourth-Largest Soybean Crop Projected For 2020. What About Prices?
Cotton Acreage Plunge in 2020?

Hay Acres on the Rise and Fall?
Pork Outlook: Don't Let Your Guard Down in 2020
3 Milk Market Factors To Watch In 2020