With the average age of U.S. farmers nearing 60, many farm and ranch operations will transition to new owners in the coming decades. How prepared are these operations for the passing of the baton?
Slightly less than 30% of farmers have a succession plan in place, according to a recent Farm Journal Pulse. Close to 40% of the 1,100 respondents don't have a succession plan and 32% somewhat have a plan.
See the results on an interactive map: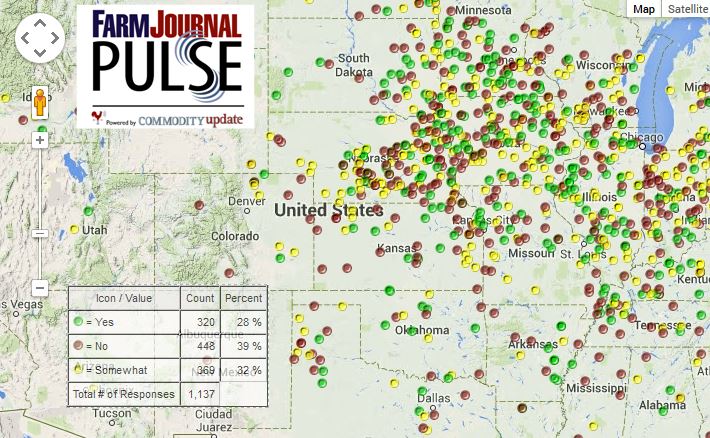 "Sometimes we let the urgent get in the way of the important," says Bob Hodges, an associate at Brown Winick in Des Moines, Iowa. "Farming is a business. If you don't run it like a business, everyone has problems."
Hodges says farmers should think about who will run their operation in the future, how to divide their assets and then, communicate those wishes. "There may not be a perfect solution," he says. "But, if you create a plan you can have peace of mind as you move forward."
For many farmers, the hardest part is actually starting the process. "But, there's no time like today to start," says David Marrison, Ohio State University Extension educator. "You want to start early to learn each potential successor's capacity."
His checklist for success includes:
Develop a written plan for turning over control.
Provide written job descriptions to everyone.
Determine what your successors need to know and who they need to know.
Capitalize on everyone's strengths
Created a timeline for when certain responsibilities be turned over.
Communicate! Be open about your wishes.
Attend a Legacy Workshop Near You
A great way to make your succession plan a priority is to attend a Farm Journal Legacy Project Workshop. Here's the lineup of upcoming events:
Monday, July 14 - Omaha, Neb.
Sheraton Omaha Hotel
655 N 108th Ave.
Omaha, NE 68154
 

Wednesday, July 16 - Moline, IL
iWireless Center
1201 River Drive
Moline, Illinois 61265
Friday, July 18 - Austin, Minn.
Holiday Inn Austin Conference Center
1701 4th St NW
Austin, MN 55912
Register now!
---