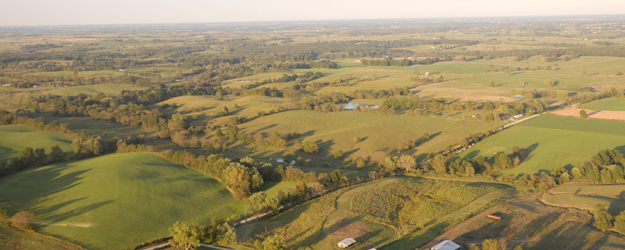 Land values are up and don't seem to be coming down any time soon.
Values of Midwestern farmland make a pretty consistent upswing, when depicted on a graph. From 1950 to last year, values for U.S. farm real estate (which includes all land, buildings and dwellings on farms), is almost a perfect arc up, with only a few small declines.
See:
Looking ahead, the upswing continues. According to the Federal Reserve Bank of Kansas City's most-recent quarterly Survey of Agricultural Credit Conditions, strong farm incomes continued to fuel demand for Tenth District farmland.
The value of nonirrigated cropland in the seven-state District rose more than 25% above year-ago levels in the first quarter of 2012, while the value of irrigated acreage vaulted more than 30% higher than a year ago.
These large increases come on top of the more than 20% gain posted in 2011. This is the first time in the history of the survey that the annual value of District cropland rose more than 20% for two consecutive years.
Ron Plain, agricultural economics professor at the University of Missouri, and William Edwards, Iowa State University professor, recently spoke at a farmland conference held at the University of Missouri – Columbia.
They credit the following reasons for increases in farmland values.
Inflation: Plain says, like prices for other commodities, farmland values typically increase over time.
 
Lack of alternative investments: Edwards says, in Iowa, agriculture is king and land is a sought-after commodity. What else would farmers with large incomes invest in?
 

Limited supply: Only so much land in the U.S. is suitable for agriculture. "There just not making any more of it," Plain says.
 
High corn and soybean prices: Edwards says demand for biofuels, livestock feed and exports have all help push prices up, which has increased the overall income of farmers.
 
Low Interest rates: During the last few years, farmers have been able to easily obtain low-interest loans to purchase farmland.


 
Favorable crop yields: Average corn yields, for example, have showed a strong increase over the last 100 years, Plain says, which has simultaneously increased average corn profit per acre.
See:



 
High degree of liquidity, equity capital: Edwards says because of high farm incomes, farmers have been able to purchase land without borrowing as much.  
---