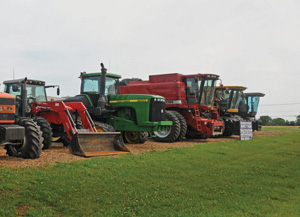 How to find the machine that fits your needs and price
The trick to buying used machinery is finding the one that meets all of your needs.

"Everybody wants a good quality machine," says Doc Cottingham, a Pine Village, Ind., farmer who enjoys scouring machinery listings. "Quality is in the eye of the beholder."

Used equipment can come with baggage—wear, makeshift repairs and less technology—but pre-owned machines can be a good investment for the right price. Farmers have long found equipment at estate, dealer and consignment auctions, but, thanks to the Internet, the machinery pool has deepened.

When purchasing used equipment, keep the following tips in mind.
1. Do your homework. Equipment values can seem like a moving target. With the help of the Internet, a quick search can give you a sense of what's out there and at what price.

"Perusing ads and keeping yourself up-to-date is important," Cottingham says. "Once you have this information, you can be an educated buyer."

Jim Mowrey, co-owner of Mowrey Auction Company in Milford, Ill., hosts a monthly machinery auction that sells 600 to 1,500 pieces of all brands.

"We recommend that buyers come in the day before and do diligent homework," Mowrey says. "For the later model stuff, you should be able to get the serial number and call the dealer to find out how many previous owners it's had."

Jay Adamson, sales manager with Van Wall Equipment in Perry, Iowa, says to take a test drive and call the previous owner to learn all you can.
2. Inspect before you buy. A qualified mechanic can analyze a machine's level of wear and tear, the need for any major repairs and other vital information. Cottingham says this process can also help determine how much off-season time you might need for major maintenance.
"The higher the value of the machine, the more wise it would be to hire someone who can conduct a pre-buy inspection," Cottingham adds.
3. Get to know the seller. When buying used equipment from a dealership, Adamson says, consider its reputation. Get to know local dealers because they might be able to locate and buy a machine from another dealer, which would likely be better than your going to a distant dealer and buying directly.
4. Ensure availability of parts and services. An obvious downside to buying something used is that it will probably need more upkeep and maintenance. "You have to consider the age of the machine and how much potential maintenance costs you are willing to accept," Cottingham says.
Mowrey says the No. 1 factor to consider when buying used is if you can easily obtain parts and service. Searching for and purchasing rare parts can be time-consuming.
5. Don't be fooled by photos. When buying equipment online, what you see might not be what you get.
"Pictures are a big deal, but they don't show everything," Adamson says.
That makes it all the more critical that you talk to a previous owner and/or have a mechanic conduct an evaluation.
6. Keep emotions in check. Auctions, whether live or online, can be high-energy experiences. "Typically, you don't walk away from an auction purchase saying, 'Man, I stole that!' It's usually, 'I gave more than I wanted to, but I think it's a good machine,'" Cottingham says. "You need to avoid the emotional part of the auction that finds you paying more than the value."
7. Negotiate for extra services. Just because a piece of machinery is no longer new, you don't have to miss out on service specials or other new equipment incentives. It might still be under warranty, or the dealership might offer warranties for used equipment, shop services or winter maintenance programs.