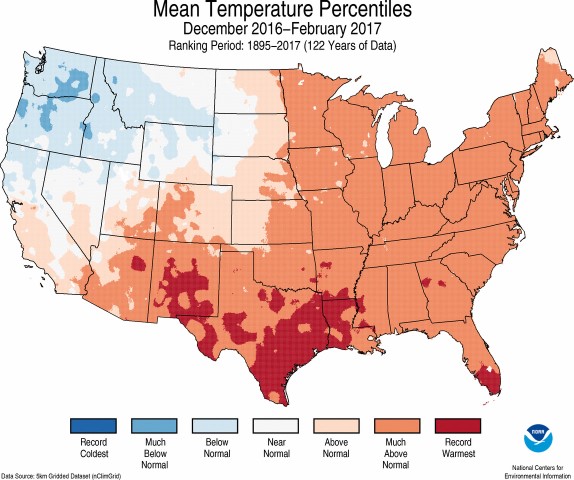 NOAA has finished tabulating December, January and February climate data and has determined that portions of nine U.S. states experienced record-breaking winter weather. Nationally, the U.S. saw the sixth-warmest winter on record, according to NOAA.
From December 2016 through February 2017, average temperatures across the contiguous U.S. was 35.9°F, which was 3.7˚F above average. Winter also clocked in wetter than normal, with 1.43 inches more precipitation than normal, making it the eighth wettest winter on record and the wettest winter since 1998.
Regional variations were significant, however. In the Midwest, for example, winter weather was relatively warm and dry. The South was unseasonably warm. Drought intensified through the Southeast and Mid-Atlantic. And widespread flooding was reported throughout the West.
Portions of 9 states – including Arizona, New Mexico, Texas, Oklahoma, Arkansas, Louisiana, Mississippi, Georgia and Florida – saw record-breaking winter weather. Much of the nation experienced "much-above-average" temperatures during the winter, with the notable exception of the Pacific Northwest extending into portions of northern Nevada, Wyoming and Wisconsin, which all experienced below-normal winter temperatures.
Winter precipitation was largely above-average across the western half of the U.S. The eastern U.S. brought a mixed bag, with two large pockets of below-normal precipitation – one centered around Missouri/Illinois and the other in the Mid-Atlantic. Other areas, including the upper Midwest, Great Lakes region and Southeast, saw above-normal precipitation levels.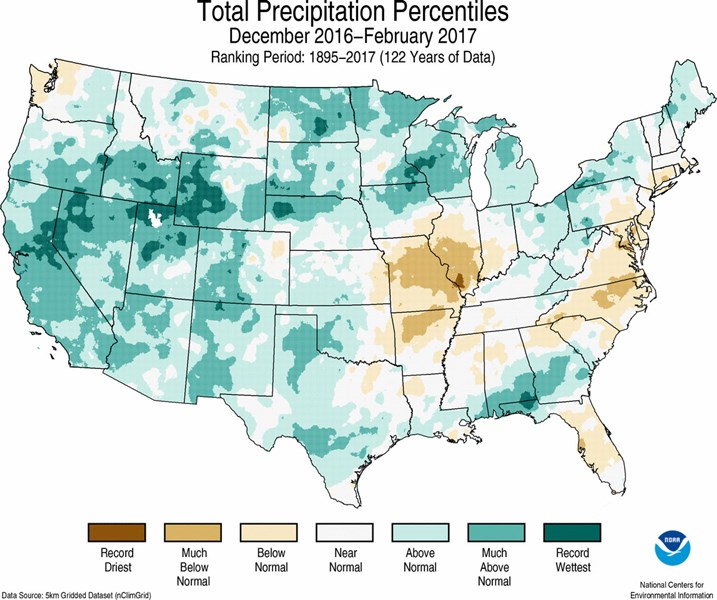 For more highlights of NOAA's latest report, visit https://www.ncei.noaa.gov/news/national-climate-201702.