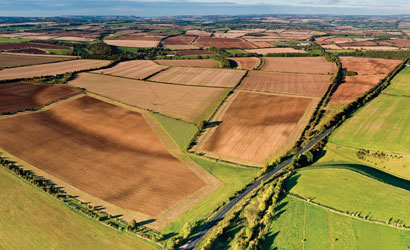 USDA recently released its annual cash rent survey results. The data is intended to provide farmers and ranchers with current information about rental rates in their county and are available for their use in making decisions regarding renting and leasing farmland. USDA contacts approximately 240,000 farms and ranches across the U.S. to obtain this information.
The 2014 results are available here. Users can also view the data mapped out by state or county level. As in previous years, cash rent values vary widely by geography. The areas that command the highest dollar values include a large portion of Iowa, Illinois and Indiana, plus patches of the Mid-South and Southeast. This year, nine counties still tallied a cash rent average of $300 or more per acre of non-irrigated ground.
9. Ogle Co., Ill. $300
8. Sangamon Co, Ill. $302
7. Sioux Co., Iowa $303
6. Piatt Co., Ill. $303
5. Ida Co., Iowa $307
4. Logan Co., Ill. $308
3. Dakota Co., Neb. $321
2. Grundy Co., Iowa $322
1. Miami-Dade Co., Fla. $385
Experts say now is a good time to negotiate cash rents.
"Rents that will be negotiated this summer and fall are likely heading lower for 2015," Gary Schnitkey, University of Illinois ag economist, told Top Producer in July. The obvious reason: Today's average cash rents are causing a cost-price squeeze in the wake of the crash in crop prices. "Farmland rents will likely be $10/acre lower in 2015 to start a three-year adjustment process," he says.
There are several online resources that can help farmers and landlords agree on fair rents. Get started at Ag Lease 101, a multistate project funded by the North Central Risk Management Education Center and the USDA National Institute of Food and Agriculture.
Another resource, FairRent from the University of Minnesota, was recently developed to help farmers evaluate land rental decisions. Users can evaluate cash, share and flexible rental arrangements. The results will help set a realistic bidding range for cash rental negotiations. Users can also add in flexible parameters to evaluate risk and returns across a range of yields and prices.
Calculate rates straight from your mobile device with apps such as the Land Lease Calculator from the University of Nebraska-Lincoln. Or, investigate how tweaking cash rent rates could affect your bottom line with the exclusive profitability matrix from AgYield.
Want to talk about cash rents, land values and other hot farming topics? Join the conversation on the AgWeb discussion forums.