The JackMate is designed to replace a standard jack's top clamp with a multipurpose attachment. The JackMate is rated to the full capacity of the jack as a clamp, winch, spreader or a base.
Originally designed for the Fire/Rescue industry, the JackMate increases the versatility of your existing jack and gives you more options in the field.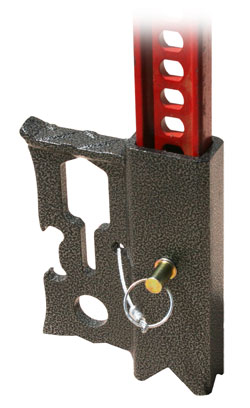 The JackMate slides over either end of the jack bar and is attached with a quick-release pin. As a top clamp, the JackMate dramatically increases the jack's winching, clamping and crushing capabilities. As a replacement for the jack base, the JackMate is engineered to "bite" into boards or logs to help prevent the jack from sinking in mud, sand, ice and snow. Additional features include a super-grip, diamond plate top, wire fence pulling slots (which doubles as a bottle opener), an easier pin for attaching the JackMate to the jack, and quick release replacement pin for the jack's base.