The Story of Midwest Crop Tour
Dozens of volunteers with one thing in common, an interest in the miracle of Midwest crop production, gather the third week of August each year for hard work and fun on the road with Midwest Crop Tour.
Midwest Crop Tour's primary goal is to provide the industry with accurate late-season information about likely corn and soybean yields during the upcoming harvest season at the state and regional level.
Crop Tour's data gathering methods are disciplined and produce consistent results. The Tour's crop scouts – especially the new ones – receive formal instruction beforehand and training from Tour veterans along the way.
Results from the Tour obviously have a big impact on Pro Farmer's annual crop production estimate released at week's end. But observations gathered during Tour can be just as important as the data itself – especially in a year like 2008 when the crop's development is anything but normal.
"We pull enough samples to provide us with accurate data for a large geographic area. Crop Tour does not attempt to predict actual yields for individual fields or even a county, but we do want to have a good handle on likely yields for each of the seven states we survey," said Pro Farmer editor Chip Flory.
"This is probably our most exciting Tour yet," Chip Flory said. "Crop Tour has always been important to those of us in the business, but suddenly people from all walks of life care about our Midwest corn and soybean crops."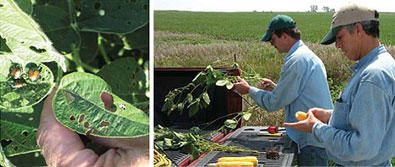 "Estimating the size of our 2008 crop is going to be a challenge this week," senior editor Roger Bernard said. "Harvested acreage is a wild card after all the flooding we had this spring, and widespread late plantings means the timing of our first frost will have a huge impact in many fields."
"We are fortunate to have Pioneer Hi-Bred and John Deere Risk Protection as sponsoring partners for Midwest Crop Tour this year," said Pro Farmer General Manager Chuck Roth. "Both companies have people with the knowledge and skills that can help us understand the implications of what we are finding in fields."
Pro Farmer has been conducting Midwest Crop Tour since 1993. Early Tours concentrated on five states (Iowa, Minnesota, Illinois, Indiana, and Ohio) but Nebraska and South Dakota were added in 1998. Together, the seven states that comprise the Tour produced 73% of our nation's corn production and 69% of soybean production in 2007.
"Soybean yields are hardest to predict because so much important agronomic development is dependent upon weather after the tour," said Roger Bernard. "But crop conditions and pod counts gathered on Crop Tour do provide us with valuable perspective on the soybean crop's yield potential."
Midwest Crop Tour is covered on U.S. Farm Report and AgDay TV shows throughout the week, and several places online including Pro-Farmer.com, AgWeb.com and Pioneer's GrowingPoint.com. Many news organizations cover the Tour, including Reuters, Dow Jones, DTN, Bloomberg, and even the Financial Times. Many farm radio broadcasters carry interviews with Tour participants each day of the Tour.
Thursday night's grand finale includes a taping for Saturday morning's edition of U.S. Farm Report and is followed up with Pro Farmer's National Corn and Soybean Yield Predictions and market impact analysis in the next day's Pro Farmer newsletter, and a webinar Friday morning.
---
2008 Pro Farmer Midwest Crop Tour Proudly Sponsored by: