According to USDA's Asian soybean rust website, on October 23nd, soybean rust was reported for the first time in Illinois in 2008. The disease was detected on soybeans in McLean County in central Illinois. This is the 13th State to report soybean rust this year.
On October 22nd, soybean rust was reported in Haralson County, Georgia; Greene County, Mississippi; and in the following counties in Arkansas: Craighead, Independence, White, Mississippi, Poinsett, Greene, Lawrence, Randolph, Clay, Garland, Union and Lonoke.
Since January of 2008, soybean rust has been reported in 13 states. This includes 52 counties in Alabama, 32 counties in Arkansas, 28 counties in Georgia, 24 counties in Florida, one county in Illinois, 27 parishes in Louisiana, one county in Kentucky, 78 counties in Mississippi, five counties in North Carolina, 15 counties in South Carolina, two counties in Tennessee, five counties in Texas, and four counties in Virginia. Rust was also reported in 11 municipalities (counties) in Mexico. Soybean rust is expected to spread northward until frost.
(click on map for larger view)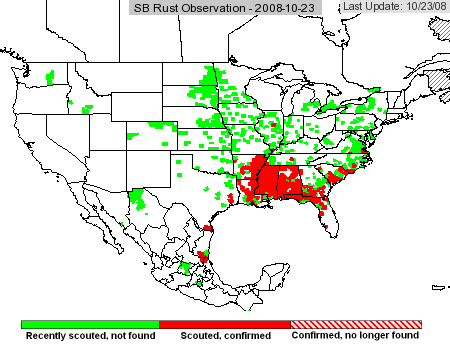 ---