Tractor-seat thinking can solve a lot of problems encountered in the fields. That's exactly what Eric Woodford of Redwood Falls, Minn., used to develop the powered windguard featured on the Vermeer 605 Super M Cornstalk Special Balers.

Woodford operates a custom baling business that runs six balers during the season. Of all his baling work, 85% is cornstalk baling for cattle operations that need the material for forage rations and bedding.

"Cornstalks can be a difficult crop to bale," he says. "Stalks usually cause a waterfall effect. As the pickup tries to bring the material in, the stover kicks itself forward because of the texture and volume."

Productivity and safety concerns drove him to find a better way to bale cornstalks. Woodford says his crew was constantly delayed by having clean out a plugged baler.

After efforts to modify rollers, cutters and power requirements, he developed a powered windguard. The windguard mounts in front of the belts and above the pickup to increase flow by providing a positive, powered feed system that can handle high volume.
"It helps crop flow into the baler and actually increases capacity significantly," Woodford says.

The power windguard can be reversed to alleviate plugging, so the operator doesn't have to leave the tractor to resume baling.

"I know I won't see any more of my crew underneath a baler pulling out cornstalks," Woodford says.

He shared his idea with Vermeer Corporation two years ago. The Vermeer Cornstalk Special (1000 rpm only) produces bales 30" to 72" in diameter, 61" wide, with a maximum bale weight of 2,400 lb. Three pairs of auxiliary remote outlets are required for the hydraulics and a 12 VDC power source. The unit can be replaced with a standard assembly when baling hay. BT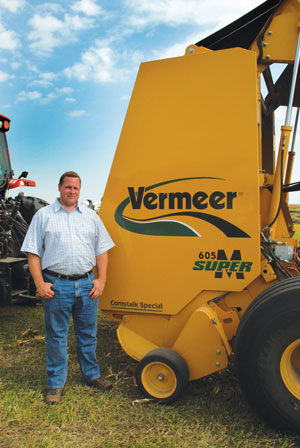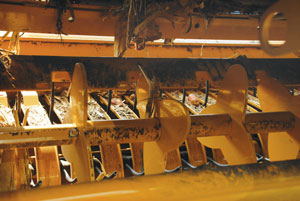 The Vermeer Cornstalk Special Balers feature a powered windguard designed by custom baler Eric Woodford.