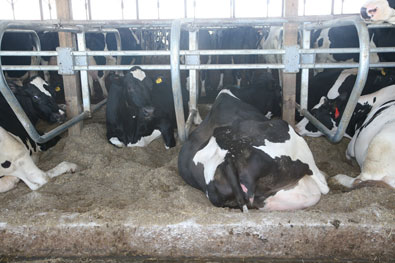 The Gerbers noted a considerable increase in stall usage after refitting one pen of freestalls with deep straw bedding.

The parade of possibilities for freestall bedding just got longer. And if you can leap over a couple of mental hurdles, deep straw beds might be just what your cows and manure-handling equipment ordered.

The 50:50 combination of short-chopped straw and field lime, wetted down with water and tumbled in a mixer wagon, yields a gray material that measures 50% moisture—not the shiny yellow fluff you picture when you think of straw.

It's a psychological challenge to accept adding water to bedding. But with regular grooming, properly sized stalls, and well-placed loops, 8" to 10" of deep straw rivals the cost of sand and shavings on mattresses or waterbeds. Plus, it produces a surprisingly clean cow with healthy hocks and knees.

What endears it to many is what it doesn't do: regularly chew up expensive manure-handling equipment.

An idea from across the pond, deep straw beds are more common in Germany. Nutrition and management consultant Corwin Holtz, of Dryden, N.Y., snagged the concept from a European colleague he met at World Dairy Expo in 2006.

Ken Gerber was one of several producers who toured more than a dozen German farms with Holtz the following January. Gerber came home willing to give deep straw a try. Together with sons Jason and Jeff, he redid a 70-cow mattressed pen in their 210-stall barn in Addison, N.Y., last summer.

Jack-hammering out concrete bases, re-pouring curbs, re-sizing stalls, and disturbing the peace and routine of the herd was an unsettling experience for man as well as beast.
"Dad's favorite comment last summer was 'I hope we're doing the right thing,'" jokes Jason.
Legs improved quickly and stall usage increased considerably. Milk production climbed to about 90 lb. per cow for several months till haylage inventory ran out in May. "I believe we wouldn't have achieved that level without the new beds," Jason says.

With two more pens redone in March, all fresh cows, high cows, and dry cows are in comfy quarters. "They rotate into this barn and you see the straw and lime beds clean them up," Jason says. The lime's mildly abrasive quality cleans manure off legs, bellies and udders, and the moisture seems to condition the skin.

Not all users of the new beds are as enthusiastic, however. Luke Huysman is a partner at Barbland Farms in Fabius, N.Y., which traded mattresses for deep straw beds last winter. "At times cows didn't use the [straw-bedded] stalls in the outside rows of the barn where there are no fans," he explains. "I think the straw beds heated up."
Stalls are bedded about once a week using a skid steer loader. Two other low-to-mid lactation groups in an adjacent barn use shavings on mattresses. But that is only until they could find a pump with cutting-edge design to move sand-laden manure out of the pit under the barn. Sand stalls are on the "to do" list.

Lou Anne King of Mapleview Dairy in Madrid, N.Y., says moving from sand to deep straw eliminated the cost of replacing manure-handling equipment. But the straw mix requires consistent grooming.
"At first we didn't add enough water to allow it to pack well," she says, "Then we found that we needed to rake it at every milking to keep it from ridging up under the loops. Some cows are just diggers." Soon they'll convert that barn to a dry cow facility and switch to waterbeds.

Even the Gerbers are still refining their management of the bedding. Having removed the brisket board to afford cows more comfort, they occasionally see cows move too far forward in the head-to-head stalls, dirtying the straw along the curb. Aggressive placing of the neck rails solves this problem as long as the cows are standing.
More experience with the concept will advise the Gerbers on udder health and milk quality. So far, there have been no red flags to alarm them.

Additionally, Jeff, Jason, and Ken are already brainstorming ways to better mechanize the mixing and delivery of the materials to reduce labor.

Currently they use their forage chopper to chop the straw to 1" to 2" lengths, blow it into a commodity bay, then mix it with the lime in their mixer wagon, add water, and dump it outside the barn in preparation for bedding. For a 50-cow pen, they use 1,500 lbs. straw, 1,500 lbs. lime, and 3,000 lbs. water.

The increasing scarcity of wood shavings in the Northeast recommends deep straw bedding to producers so long as they can purchase straw for $160/ton, which is about the same price as sand, says Holtz. The Gerbers bought straw at that rate out of Canada for their first go-round, but have now begun to grow some small grains to bale their own straw.

"We haven't tested manure yet to see if the lime in the deep straw bedding actually benefits the soil after spreading (and incorporation)," adds Jason. "That would be an added bonus."
---
Bonus content:
You are reading an extended version of this story from the October issue.
Click here for Spanish version of this story.