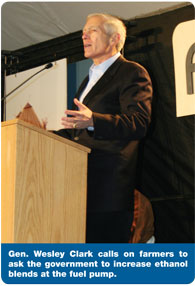 A General's Call to Action

The ethanol industry is in danger of achieving full market penetration, which will hinder the commer-cialization of cellulosic ethanol, says Gen. Wesley Clark, former Supreme Allied Commander of the North Atlantic Treaty Organization and current co-chair of Growth Energy, a trade organization for the biofuels industry.

Since current government regulations restrict the ethanol blend to E10, the country is not able to use a volume of ethanol greater than 10% of our fuel supply and will hit a "blend wall." Ethanol producers are beginning to hit that wall this year.

"We need your help," Clark told farmers gathered at a recent Poet field day event. "We need your voice as well as your labor. Tell your legislators to ask EPA [Environmental Protection Agency] to move the blend wall from E10 to E15."

Today's vehicles are designed to run on gasoline blended with small amounts of ethanol. Currently, EPA caps the amount of ethanol that can be blended into gasoline at 10%, or E10. The 10% cap is an arbitrary number, according to Growth Energy, that dates back to 1978 when EPA granted a waiver for the use of this fuel blend as substantially similar to gasoline.

Higher blends, such as E85, already play a role in our renewable fuel supply, but limited numbers of flex-fuel vehicles and lack of necessary infrastructure limits its impact in the near term. In order for intermediate blends to be used in all cars on the road today, a waiver must be issued by EPA or granted by Congress. 

 
---

Biodiesel from Algae

Green Plains Renewable Energy's (GPRE) 50-million-gallon ethanol facility in Shenandoah, Iowa, recently unveiled a pilot project that will produce algae, which in turn could be used for biodiesel production.

GPRE has teamed up with BioProcessAlgae LLC to determine the scalability and functionality for future commercial deployment of the technology. Researchers will use carbon dioxide (CO2) from the plant's ethanol production to feed an algae-producing technology called Grower Harvester, developed by BioProcessAlgae.

"We are excited by the opportunities this technology offers to sequester the CO2 emitted at our ethanol plants," says Todd Becker, president and CEO of GPRE. "Our plants have warm water, waste heat and CO2, which provide a perfect environment for the Grower Harvester technology to be deployed."

The algae produced have the potential to be used for advanced biofuel production, high-quality animal feed or a biomass for energy production, Becker says. "But our focus at this point is solely on efficiently growing algae and sequestering the CO2," he adds.

According to Becker, a 50-million-gallon ethanol plant using this technology could remove 70,000 tons of CO2 from the atmosphere. Adopting this algae process could help the ethanol plant achieve carbon neutrality, and it may even be possible for it to become carbon-negative.

 
---

Plastics from Ethanol Coproduct

A new ethanol coproduct called Inviz could replace petroleum-based ingredients in household products ranging from pill coatings to plastic packaging.

Inviz was developed by Poet from a biodegradable, low-nutrient protein called a zein, which is found in ethanol coproducts, such as corn gluten meal and distillers' grains. It can be used as a gum base or in films, packaging, adhesives, coatings, glazes and edible hay bale wrappers.

Inviz zein is extracted using a patent-pending process developed by Poet.

Inviz differs from other zein products because Poet's process fractionates the corn kernel and ferments ethanol without using heat. For that reason, Inviz is a more pure corn protein than other zein products, which are typically exposed to sulfur dioxide in the wet-milling process.

Poet is working on commercial development of the Inviz product.