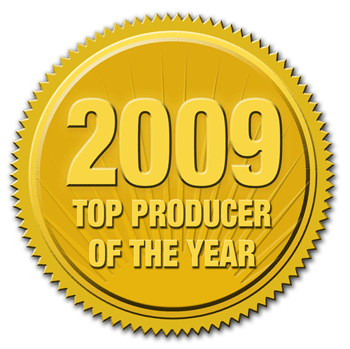 The iPhone on his hip alerted Leroy Shatto to a new e-mail in his in-box during January's Top Producer Seminar. He read the message and smiled with pride in a moment that's been repeated often over the past five years.

"I just wanted to let you know how much my family enjoys your milk," said the e-mail from a Kansas City–area mother. "Our family has had some financial troubles lately and we have had to cut back on some expenses. But one area we won't sacrifice is buying Shatto Milk."

"Wow. That's what makes this all worth it," says the Osborn, Mo., dairy farmer turned northwest Missouri local milk magnate and 2008 Top Producer of the Year finalist. "I mean, look at that. I can't tell you how proud that makes me."

Five years ago, Shatto faced a financial crossroads after nearly 30 years in business. The paths available: Make changes, or quit dairying. He chose the more difficult route of completely restructuring his business from dairy farm to milk company.

"It scared us because we didn't know whether people were going to buy our milk to start with," Shatto says with his habitual self-deprecating air, "let alone from some dumb dairyman who has his milk in a glass bottle. They don't even know who he is, and he's charging more money for his milk. That was scary, but it worked."

The path has led him to be a runner-up for National Small Busi-ness Person of the Year, which meant a visit to the Oval Office and a meeting with President George Bush. He's also won numerous national advertising and marketing awards.

New beginnings. The money has been there, certainly far better than he received as a commodity milk producer, but it's the newfound pride that has energized him to continue building Shatto Milk Company to unprecedented success.

Glass bottles adorned with large black words like "Local," "Yummy," "Fresh" and "Pure," among others, fly off grocery-store shelves. At Christmas, the bottles of eggnog say "Cheers!" Northwest Missouri has taken to Shatto's goal of "bringing fun back to drinking milk."

The once "nearly-broke farm" now produces 36,000 bottles of milk weekly and supplies cream and butter to retail grocery stores in Kansas City and area upscale restaurants. It has also recently expanded its product line to cheese, ice cream and even milk soap.

The fun has been brought back through traditional milk flavors like white and chocolate, but Shatto's not afraid to experiment either. Root beer, orange Dreamsicle and banana are all popular flavors. He's also experimented with cotton candy flavor.

"I've got pride back in what I do," he says. "When I sold my milk to a dairy co-op, in 28 years nobody ever told me they liked my milk. I get goose bumps 20 times a day because all these people come to me or I get e-mails telling me the same thing. That's worth more than anything."

Charting the course. While the business is going gangbusters now, Shatto once nearly abandoned the idea. At the time, he considered himself strictly a dairyman, and he had to learn the ways of food processing and the retail food business. He developed a business plan and looked outside the community for financing.

He received two grants from the Missouri Department of Agriculture to conduct feasibility studies and market research. This money was invaluable, because with milk prices hovering between $10.50 and $11/cwt., saving money while maintaining a farm was difficult.

Eventually Shatto gained enough market intelligence to build a blueprint for his business. Armed with what he believed to be a sound business idea and a 100-plus-page business plan, Shatto approached re-gional banks in Kansas City for funding. Rather than finding the support he needed, he ran into brick walls until he got help from a local bank.

"At that time, when you went in to talk to a banker, agriculture was at the bottom of the list. And then telling them I was a dairy farmer, well, that certainly didn't help either," he says. "So we were actually turned down by several big lenders before we got this thing going.

"We were about to give up because we were running out of people to talk to. Luckily, I did talk to a local bank that does SBA loans. I'd never met them before, but when I went in to talk to them one day they believed in us and thought this could work."

He shoots, he SCOREs. The turning point in the development process, though, was learning from Kenneth Bayer that in some instances, less is more. Shatto sought help from SCORE (Service Corps of Retired Executives), an association that helps entrepreneurs get started in business. That's how he hooked up with Bayer, a retired marketing executive from Kansas City–based Hallmark Cards, and with George Lancaster, a retiree from Farmland Industries. The trio refined and simplified the business plan, with great results.

Bayer believes that many of the challenges Shatto faced with financing were due not to a lack of interest in agriculture but to his making the process appear too difficult.

"The original business plan was 115 pages long," Bayer says. "We looked at it and said, 'Nobody is going to read this much.' We cut it down to 10 pages, and people could understand it."

Stocking shelves. With required capital secured, Shatto Milk Com-pany was ready for launch. This was a daunting task for a dairyman accustomed to taking whatever price was paid by the cooperative.

"I was worried about getting the milk out of here because once I left the dairy co-op, they weren't going to buy any of my extra milk. It was either sink or swim, and we had to make it work," Shatto says.

Shelf space is the name of the game. If you don't have product on the shelves, it won't sell. Bayer and Shatto knew they needed aggressive, yet reasonable goals. Under this plan, more than half the year would pass before 100% of the production from 80 cows was used.

"That worried us. Every night when we went to bed, I could see that milk going down the drain because people weren't buying, and I knew that wouldn't work," Shatto says.

Despite going all-in with this make-or-break gamble, the business plan was sound, Bayer says. But unforeseen challenges of a different kind lay just around the corner. Within 30 days, Shatto didn't have enough cows or milk to keep pace with demand.

"From the rate of sale for milk in retail stores, we figured we would need 2' of cooler space in 12 stores at the end of the first 12 months," Bayer says. "At the end of the first year, Leroy had 1,000' of cooler space and we opened our forty-fourth store."

In high demand. Keeping pace is still an issue, though it does not compare with the early issues he confronted. Within the first two months of production, Shatto was faced with doubling the size of his herd. Since then, it's more than doubled again. Today the farm milks 300 cows.

Berry Parks, owner of Big V Country Mart, a grocery store in Smithville, Mo., says, "People love his milk." Complaints? "No, he's great to work with and is always very accommodating. Well, sometimes it's hard to get enough product. People like it so much it's hard to keep it stocked."

Before he started the milk company, it was just Shatto and the cows. With the transition to milk company, he has had to learn to let go of certain management tasks, while picking up other duties.

"I'm still a dairy farmer; that's what I've done all my years. I've had to turn over production to other people because I just don't have time to do it. I still miss that part," he says. "What really killed me through this whole thing was turning my cows over to somebody else. I milked for so long and in a certain way that I didn't want anybody changing that.

"For the first couple weeks, even though I knew I had to make the transition, I still spent a lot of time in the milking parlor. I finally learned to wean myself out of there, and I started to see that it would still work. We were okay. That gave me more time to do the things I needed to do."

"He may have wondered what he was doing as he dealt with issues of developing a business from the ground up," says lender Mike Craven, senior vice president of Citizens Bank of Norborne, Mo. "But I don't believe he's looked back wondering if the business would survive."

Today, Shatto reflects on the experience. When he slows down long enough to think about the road he has traveled, it is overwhelming.

Last year, after watching an instructional video about rural entrepreneurs sponsored by John Deere, Shatto realized just how far he has come over the past five years. He says it caused him to literally sit down and think about all he has been through and how much work it has been.

"It's just awesome," he says, commenting on his sense of accomplishment. "I watched the DVD, and then I really thought about it. I got tears in my eyes."

Shatto Milk Company
Family: Leroy Shatto has been in business for 33 years. He started in partnership with his father-in-law on the farm where his wife, Barb, was raised. Barb is a nurse in Kansas City, but is involved in the dairy on a daily basis, doing books and helping Leroy with decisions in the company. Son Matt, an assistant city manager in Lenexa, Kan., is also involved in the company. He watches bottle inventory to ensure that enough glass bottles are on hand, and also makes the milk soap that is sold at the company's country store.

People or Cows? There's a distinct difference between managing cows and managing people, Shatto says. "All these people here are taking care of the cows, the plant and the trucks.
I really can't do it without any of them. I did find it's harder working with employees than with cows. I can get my cows to do just about anything I want them to do. Sometimes with employees, that doesn't happen. But we've gone through those people and we have a really good group now."

Marketing: Shatto Milk Company uses the fresh-and-local niche to its fullest potential. The packaging—glass bottles—is its most visible form of marketing. Taking an approach that is both nostalgic and keyed into to-day's consumer trends, the bottles evoke the idea that the milk is produced by a local farmer whom people know. They also aim to make drinking milk fun. Holiday eggnog bottles declare "Cheers!" in large letters.

The back of the bottle tells the story of Shatto Milk Company and how it came to be. To emphasize the difference between milk in plastic jugs and Shatto milk, the glass bottles pose the question: "When's the last time you enjoyed an ice cold plastic of milk?"

Branding: Shatto is typically attired in the company brand wherever he goes. Sullivan, Higdon and Sink, an advertising agency in Kansas City, has helped Shatto Milk Company hone its marketing and branding programs, creating a consistent and recognizable image for the company. The agency has helped position Shatto Milk as a local company that is in touch with its consumers.

Expansion: Shatto faces unique challenges in growing his business because of the federal milk marketing order. "If I wanted to go to a neighbor and buy his milk like the co-op buys it now, there are all kinds of regulations in the dairy industry to keep that from happening," he says. "All the milk has to go through a federal milk order, and if I were to buy his milk I'd have to go through a pool. That would cost me an extra $2 to $3/cwt."

Recycling: Environmental stewardship is a key component to Shatto's business and marketing. The company boasts of recycling more than 1.3 million glass bottles of milk last year and keeping that much plastic out of local landfills. They also do not use paper towels in the milking parlor; instead, Shatto insists on using only reusable, washable cloths.

Need for Quality: "It's all about making sure we have the best milk," Shatto says. "If I mess something up even one day, people are going to call me. My customers may quit drinking my milk. Every night when I go to bed and every morning when I wake up, it's all I think about. It's about having the best."

Premium Pricing: "It's amazing how many people know our brand and associate us with fresh, good-quality milk," Shatto says. "We think our milk is better. They know where our milk comes from, so we can charge more for our product."

An Accidental Tourist Destination
Consumers today increasingly demand knowledge of where their food comes from and how it is produced. This was a major factor in Leroy Shatto's decision to start Shatto Milk Company and bottle his own milk. Since transitioning from dairy farm to milk company five years ago, Shatto has taken the Kansas City area by storm. Though tourism was never intended to be a part of his business, the farm has become a destination.

Some visitors are expected, others are not, but everyone is welcome. Last year, visitors ranged from Girl Scout troops to an African farmer considering a model similar to Shatto's on his own continent.

Tourists have a dual benefit for the milk company. Shatto charges a fee for organized groups to tour his farm, boosting revenue and helping cover salaries. It also assists the company in its branding efforts.

To contact Greg Vincent, e-mail GVincent@farmjournal.com.
---

Top Producer, October 2008