A Manager by Necessity

Feeling a little winded as I loaded some seed beans into the planter during my three-week trip home to Illinois this summer, I reflected on how being a farmer has changed for me over the past five years. Apparently, typing e-mail and talking on a cell phone build a different type of endurance than the kind needed to carry a sack of seed!

Transitioning from an Illinois farmboy and college student to managing a large-scale grain and fiber farm on the Brazilian frontier has presented huge challenges. It's also taught me a lot—about myself, as well as about business.

As the newest contributor to Business Manager in Top Producer, I'll share with you what has worked and what doesn't work for me and try to give you some advice as you strive to make your business more profitable. This requires not losing sight of your production agriculture roots while treating your farm operation as a business much like any other business.

Rapid growth. My transition was easier because it was essential: When adding 5,000 acres per year, there was no choice but to get out of the tractor cab, get out of the shop, and hire people to do those jobs.

Finding an employee who will collect a paycheck is easy. Turning that employee into someone who thinks like an owner and operates with efficiency and profitability in mind requires a good manager. Many farmers I know in the U.S. have not been able to make the leap from laborer to manager for lack of absolute necessity.

Generally, opportunities to expand on the scale possible for me in Brazil from year to year don't exist in the Midwest. However, if you make the management tran-sition, I believe opportunities for expansion and/or increased profitability become more apparent.

Mind what matters. In my columns, you will notice a recurring theme, which boils down to doing what matters. This requires a conscious effort in many of your day-to-day activities to ask yourself, "Is this the most profitable thing for me to be doing/worrying about/concerning myself with?"

Generally, some simple math will give you the answer. When I walk into our shop, I see what I consider to be too many good shop rags lying around. I become slightly agitated and question why my employees are so wasteful.

How much do I actually spend per year on shop rags? Maybe $40. I could teach workers to use shop rags more sparingly, monitor their use, become twice as efficient and save a whopping $20 per year.Or I can spend equal time and energy figuring out where the real waste is. Have I calibrated my sprayer monitors, flowmeters and nozzles recently? Have I thoroughly studied recent soil samples to decide how to get the most out of my fertilizer dollar?

I found myself, as you may currently find yourself, spending too much time on the $20 problems and not enough on the $20,000 problems.

Update on Bahia: We are in the midst of our busiest season of the year. Cotton picking, ginning and tillage are in full swing, and the 2,000 gal./day diesel bills pile up at an alarming rate.

Land is getting harder to acquire, having shifted from "must sell" to "would sell" (for the right price). But there is still more ground to open. Once Brazil runs out of new ground, I expect one more transition from a "would sell" to a "won't sell" market, like we see in Illinois and Iowa.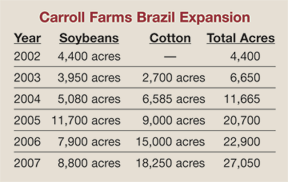 John Carroll, an Illinois native, holds an MBA from Western Illinois University. He manages 28,000 acres of cotton and soybeans in Bahia, Brazil. To contact John, e-mail TopProducer@farmjournal.com.
---

Top Producer, September 2008