Naturally, you would know that the cost of farming is pretty dependent on natural gas cost. Fertilizer, irrigation and drying cost are all based on where natural gas is trading. There is now an active "mini-natural gas" contract that many of Allendale's clients are using. Here is our latest recommendation…
Natural gas typically puts in a seasonal rally as we head into the colder winter months. The government's bailout plan (if passed) is highly inflationary.
The price of natural gas has declined from a contract high of 12.000 to a current price of 7.900. Our research also suggests that anhydrous/ammonia prices have about a six-month lag to natural gas. Thus we wouldn't expect NH3 prices to come down until after most of next year's needs have already been purchased.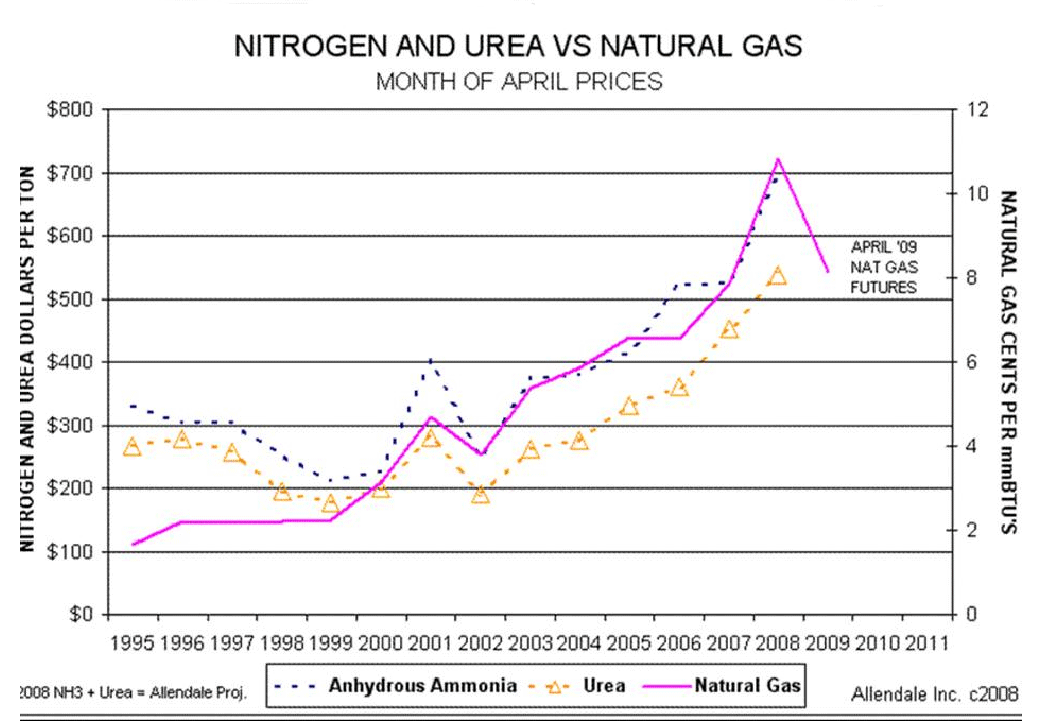 From a producer standpoint, we feel it is more beneficial to buy the natural gas contract at a lower price. Then, when prices rice and its time to buy NH3, you can sell the natural gas contract for a profit, which will offset the higher price of NH3. Basically you are selling out of the natural gas and replacing it with ownership of nitrogen, which is the processed product you'll use.
Technically, the natural gas chart looks like it is building a rounded bottom.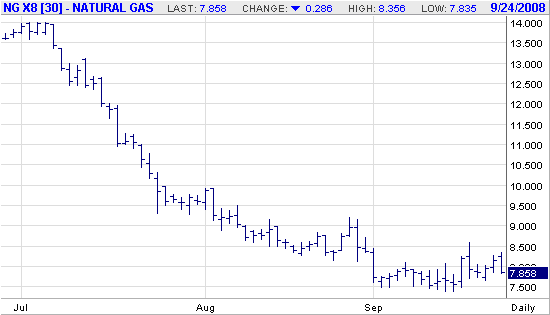 To put it simply, natural gas is cheap and anhydrous is expensive. If we're going to buy, let's buy what has the odds of moving to a higher price rather than buying something that has odds of coming down in price. One e-mini natural gas contract will meet Nitrogen needs for 816 acres of corn at 150 units of nitrogen per acre. And….one mini natural gas will dry about 200,000 bushel at 22% moisture. Thus farmers can use this tool to control more than one significant cost of farming
---
The thoughts expressed and the basic data from which they are drawn are believed to be reliable but cannot be guaranteed. Any opinions expressed herein are subject to change without notice.  Hypothetical or simulated performance results have certain inherent limitations. Simulated results do not represent actual trading.  Simulated trading programs are  subject to the benefit of hindsight. No representation is being made that any account will or is likely to achieve profits or losses similar to those shown. Commodity trading may not be suitable for recipients of this publication. This is not a solicitation of the purchase or sale of any commodities.  Those acting on this information are responsible for their own actions.  Any republication, or other use of this information and thoughts expressed herein without the written permission of Allendale, Inc., is strictly prohibited. Allendale Inc. c2008