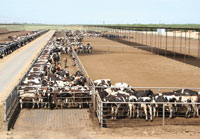 Intensively managed dairies actually
emit less carbon equivalents than grass-based dairies.
There's no way around it. Dairy cows contribute to greenhouse gas (GHG) emissions, and must become part of the solution to global warming.
That was the message conveyed when about 250 dairy producers, scientists and allied industry leaders from 40 countries met this summer in Edinburgh, Scotland. This first-ever Dairy Farming Summit was sponsored by the International Dairy Federation (IDF) and DeLaval.
"No dairy farmer on the planet will be immune to climate change issues," says Jim Begg, IDF president.
At the same time, the dairy industry needs to increase production to feed a burgeoning world population. "There are 70 million extra mouths to feed every year, and more and more people are shifting their diet from starch to protein," says John Gilliland of the United Kingdom's Department for Environment, Food and Rural Affairs.
The United Nations' Food and Agriculture Organization estimates that in the entire livestock commodity chain, from land use and feed production to waste and food processing, about 18% of total GHG emissions caused by human influence can be attributed to the livestock sector. Dairy cows contribute 2% of global GHG exhaust, according to the Dairy Research Center of the International Farm Comparison Network (IFCN). The main driver is methane emissions, which contribute 50% to 70% of the total emissions from dairy cows.
A cow producing 18,000 lb. of milk per lactation emits about 500 lb. of methane through rumination and another 225 lb. through manure, says Theun Vellinga of the Animal Sciences Group of Wageningen University and Research Center in the Netherlands. So total emissions are about 1.5 lb. of carbon dioxide equivalent per pound of milk produced. Estimates vary, but what is known is that methane emissions from both rumination and farm manure management have a larger impact in less-intensive farming systems.
But don't think
cows have suddenly become a danger to the environment. Cows are still one of the few animals that are very efficient at converting roughage into healthy milk and meat.
"Not eating meat [or drinking milk] is not the solution for global warming," says Maggie Gill, chief science advisor for Rural Affairs and the Environment for the Scottish Government. "About 8.4 billion acres in the world is grazing land. Only ruminants can convert that biomass into high-quality food.
"We can't look at livestock in terms of a negative contribution to climate change," she adds. "We also have to look at the food security debate and appropriate land use."
Increasing dairy cows' productivity is the best way to reduce their carbon footprint. This is the preliminary conclusion of an IFCN investigation that compared the carbon footprints of dairy farms and farming systems in 38 countries. "The productivity per [pound] of live weight is the starting point for reducing the environmental footprint," says Tim Nicolaï of DeLaval.
Research by the Scottish Agricultural College reveals that high-forage systems have higher methane production per pound of milk produced than systems where a lower proportion of forage is fed. However, low-forage groups have higher nitrogen loss than high-forage groups.
Increasing productivity per animal provides the possibility of reducing the number of animals while maintaining production, according to Vellinga. While methane is the most important contributor to GHG emissions from dairy farms, options to reduce methane are limited.
For example, changes in animal nutrition can cause many side effects. "Feed a cow as a pig, not as a ruminant—not feeding grass but instead corn and potatoes is turning things upside down. But it is a way to reduce the emissions," Vellinga states.
Dairy producers
have a direct tool to control GHGs: the energy they use on the farm. It seems this tool is just now getting more attention as energy prices increase.
But there are problems. Most dairy producers don't know where their energy costs originate, so they cannot manage them, says Paul Martin, director of environmental services for Western United Dairymen. Costs vary from 350 kwh to more than 2,000 kwh per cow per year. The energy costs of a dairy farm in California are 2% of total costs, while feeding costs are 52% to 61%. Farmers focus mostly on managing the latter, Martin says. But using more energy-efficient equipment could directly lower energy costs and indirectly reduce GHG emissions.
Energy production from manure is another option, says David Ludington, professor emeritus of biological and environmental engineering at Cornell University. But roadblocks lessen the incentive. Capital cost is the primary problem, he says. "Returns from energy sales are relatively low. And energy production requires full attention while management priorities often are elsewhere." Air and water regulations and permitting difficulties also can impede development of methane digesters and other fuel-from-manure applications.
Agricultural climate change cannot be looked at in isolation, Gilliland says. "Farm solutions must be part of a much wider solution which also allows the world's population to be fed, watered and fueled."
Anders Fagerberg, retired vice president of DeLaval and now working as a consultant, says: "As dairy farmers, we need to speed up milk production to meet growing global demands and we have to manage it in a sustainable way. Communication and sharing information will help us do this."
GREENHOUSE GAS BASICS

The main greenhouse gases (GHG) are carbon dioxide (CO2), methane (CH4) and nitrogen oxide (N2O). In harm equivalents, carbon dioxide equals 1 CO2, methane equals 23 CO2, and nitrogen oxide equals 296 CO2.
To counter global warming, numerous countries have signed the Kyoto Protocol, agreeing to reduce carbon emissions an average of 5.2% by 2012 with 1990 as the baseline for measurement.
Other countries have vowed to cut further, with European Union members vowing to cut emissions 20% by 2020. A United Kingdom bill proposes cutting CO2 equivalents by 60% by 2050.
Norway, New Zealand, Iceland and Costa Rica have vowed to become carbon neutral, producing no more CO2 equivalents than they consume.
The United States has not signed the Kyoto Protocol. However, several bills are pending in Congress that would create mandatory "cap and trade" regulations. If one is passed, the value of carbon credits could increase significantly.
---
Bonus content: