Corn and soybean basis levels were higher this week as sharply lower barge rates and a slow-paced corn harvest helped fuel the gains. For the week, corn basis was up 4-cents a bushel while soybean basis levels climbed 10 cents on average around the country.
In the Western Corn Belt, corn harvest continues to lag well behind normal conditions for this time of the year. Iowa, Minnesota and Nebraska are traditionally about 45% harvested by this time of year, but are all below 20% completed. As a result, some end-users continue to keep basis levels high to try and attract supplies. Also, areas around river terminals had strong gains in basis this week. Barge rates continued to slip, falling about 10-cents a bushel for the week which helped lift both corn and bean basis.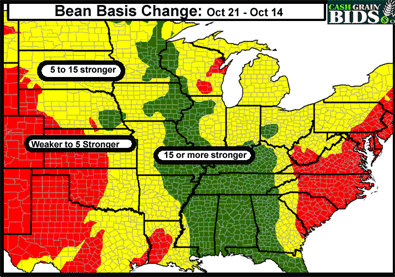 In soybeans, the lift from barge rates was even better as river terminal markets climbed 15 to 20 cents a bushel over the last week. However, even other parts of the country were mostly higher with gains of 5 to 15 cents a bushel fairly typical throughout the Midwest.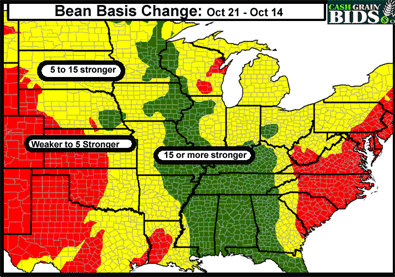 Look for higher basis levels to be in the cards this coming season. As futures markets have fallen during harvest, farmers are looking to hold their crop in hopes of a return of loftier prices. In addition, sharply lower fuel costs will send rail and barge rates lower in the coming months. Already, barge rates have come down, but will likely fall even further as we get past harvest. By January, we look for barge rates to be 30 to 50 cents a bushel lower than where they are at today, which spells stronger basis levels in these key river market regions.
 
---