By Roger Bernard, Farm Journal Policy & Washington Editor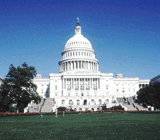 Sustainable ag is a popular buzz term in many circles today and the definitions vary. Now, USDA joined the discussion in a big way at last week's Ag Outlook Forum.
The conference attracts attendees from across the country but also from around the world. The 86th version held this year focused on sustainable agriculture as its overarching theme.
But that focus on a topic which has gotten little attention in previous versions of the confab -- only one session was on sustainable agriculture over the past seven years -- didn't displace attention that is typically given to the first "official" USDA look at what lies ahead for 2010.

While some point to the Longterm Baseline projections that USDA releases each year as their "first" look at 2010, those estimates are more of a guideline than anything else as they are based on supply and demand conditions from late 2009. The estimates discussed at the Outlook Forum are based on more-current conditions.
The confab opened Thursday, Feb. 18, with USDA Chief Economist Joe Glauber "setting the tone" by outlining some of the economic conditions that underpin the outlook for the coming growing season. He also offered up some initial acreage figures and a few numbers from the balance sheets, offering a preview of what USDA analysts would offer in detail Friday morning.
Trade also was a focus in the Thursday opening sessions with remarks by Undersecretary Jim Miller who released the updated U.S. ag export forecast for Fiscal Year (FY) 2010 -- another annual "feature" of the Outlook Forum. U.S. Trade Representative Ron Kirk also spoke of trade and its importance to agriculture.

While Kirk talked trade and trade deals such as those negotiated with Colombia, Panama and South Korea that have yet to be presented to Congress for approval, he didn't signal when the administration might send those to Congress. That was noticed by more than a few at the confab, including reporters who pressed USDA Sec. Tom Vilsack in a press conference as to why more focus wasn't being put on trade.
The confab's general session was entitled Sustainability, Stakeholders & Customers: Achieving a Healthier & Secure Future. But it, too, revealed one of the key issues: While there is a definition in law on sustainable agriculture, the concept of sustainability means many things to many people. Even those in attendance at the Forum had their own ideas of what sustainability really means -- ranging from environmental sustainability to a concept that is probably most important to farmers and U.S. agriculture -- economic sustainability.

From year to year, the focus on different sessions changes. For example, over the 2007 and 2008 Forums, as prices had risen and the food versus fuel debate was reaching a growing crescendo, there was standing room only in the session dedicated to food price forecasts from USDA. Typically, that session had seen little attendance and focus. As the food price focus has lessened, the sessions has remained well attended. But it didn't attract the crush of folks it did just a couple years ago.
The commodity outlook information detailed in Friday morning's sessions was one of the usual topics of debate, though few quibbled a great deal with USDA's projections for the year ahead. Perhaps the biggest question mark in the hallways outside the sessions related to soybeans, particularly USDA's soybean acreage projection. Most weren't as convinced as USDA analysts that there will be fewer acres planted to soybeans in the U.S. this coming growing season. But even those disagreeing with USDA weren't outraged at what the Department's analysts were projecting.

Of course, with the setting of the confab just outside Washington, there was considerable talk on politics -- something which rarely gets much attention during the sessions for the annual gathering. But that certainly doesn't stop participants from political talk between sessions.
I'm often asked what the "tone" is from this meeting. Those attending this year had really a pretty optimistic tone -- despite the economic downturn that has gripped the nation and the world. But perhaps that's because agriculture is one of the sectors that hasn't seen as big of an impact as others from the recession.
And even those where there has been an impact -- the meat sector in particular -- were noting signs of improvement on the demand side. USDA analysts forecast a recovery in U.S. pork and beef exports as global economic recovery continues. And even Wesley Batista, head of JBS USA, told Forum attendees his firm was seeing improvement in meat demand from the food service sector.

So the confab had an air of optimism overall, not uncontrolled optimism, but maybe more of a "realistic" optimism. Some were leery of what the longer-term outlook may hold. But like the U.S. agriculture, where each year starts with optimism of a new growing season, the Forum feel was one of optimism. And that optimism will be critical for the agriculture sector to maintain as it faces the challenge of feeding and clothing the world.