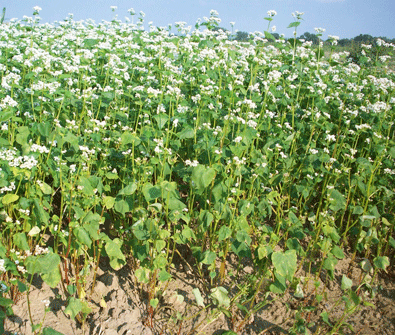 Buckwheat is one of many cover crop possibilities described in Cornell University's new online Cover Crop Decision Tool.

Web Tool to Select a Cover Crop
Vegetable growers in New York and some other states have a new online tool to help them select the ideal cover crop. Simply called the Cover Crop Decision Tool, it was developed by Cornell University horticulturist Thomas Björkman. His work was funded by the New York Farm Viability Institute.
To use the tool, farmers enter their management goal (such as reducing surface hardness), planting time or how long they want the cover crop to grow. The Web tool then kicks out cover crop choices, with key information about each one. Next, it offers advice about whether the candidate crops fit the grower's rotation, whether the price is appropriate, what planting equipment is needed and other factors. Finally, the tool provides planting instructions. For New York growers, it includes sources of seed.
"I developed the tool for vegetable growers because they have more opportunities to fit a cover crop into their rotation," Björkman explains. "With row crops, the windows for planting are more limited, and most growers already know what cover crops are available to them. If they need advice, there are other sources of information that can be found on-line.
"Vegetable growers can benefit a great deal from cover crops because vegetables often require intensive tillage," Björkman adds. "They can use the tool in conjunction with the Cornell soil health test to develop a cover crop prescription for their farms."
The tool also should be helpful to vegetable growers in northern Ohio, northern Michigan and southern Wisconsin, which have similar growing conditions, Björkman says. It can be accessed at http://tinyurl.com/NYccTool.
---
Residue Maximizes Conservation Tillage Benefits
Both no-till and shallow one-pass tillage increased the organic matter content of Palouse soils, in a
20-year study recently completed by Washington State University/USDA–Agricultural Research Service soil scientist Ann Kennedy. With continuous no-till, organic matter content increased from 1.9% to 3.6%.
Although the increase was greatest with no-till, organic matter content also increased when Kennedy made one tillage pass, 2" to 3" deep, each year. "That's good news for growers, who sometimes need to mix some old-crop residue into the surface soil to control pathogens and other pests," she says. "But no-tilling is best because there are other benefits from leaving soil undisturbed." With conventional tillage, organic matter content declined.
Kennedy advises caution in harvesting crop residue for biofuel production in dryland cropping areas, such as the Northwest, which receive 25" or less of annual rainfall. "Even with no-till, if all crop residue was removed, we saw only a slight, inconsistent increase in organic matter content," she says. "In this area, it's OK to take off some of the residue, but be sure to leave at least a ton per acre." In areas with irrigation or cooler, wetter climates, other factors determine how much residue can be safely removed, she adds.
---
New Waste Management System Reduces Land Requirements
A swine waste management system in use for three years on a 200-sow Illinois State University (ISU) hog operation adapts urban technology to the farm. The system involves separating out solid material for composting. The liquid portion is then applied to crops with the help of a center pivot or sub-irrigation process.
"Separation removes phosphorus (P), so the liquid can be applied to land without building up excessive P levels in the soil," says ISU's Paul Walker, who led the research team that developed the system. The team included members of several state agencies and land-grant universities.
"We can apply 1 million gallons of liquid on 40 acres of land, based on nitrogen fertilizer requirements, and still have a P deficit in the soil. When we applied the waste as a slurry, without separating out the solids, we needed 200 acres.
"The compost can be applied to fields, based on phosphorus fertilizer requirements," Walker adds. "As a dry product, it can be safely transported to distant fields or it can be sold off the farm."
Walker believes the technology can fit any size swine operation, and he thinks it also will work for dairy and beef cattle finishing operations. You can learn more at www.sweeta.illinois.edu/index.cfm.
---
You can e-mail Darrell Smith at
dsmith@farmjournal.com