China's feverish economy is finally showing signs of taking a breather. The country's stock market has plunged 50% or more in the past year. Some say that isn't a bad thing. "The Chinese have been trying to slow their economy for two or three years, and rightly so," says Jim Rogers, author of Hot Commodities and a commodity fund manager who moved from New York to Singapore last year. "A slowing will help them get inflation under control and let the economy sort things out a bit."
As our No. 1 soybean end user, China's economic health and its im-pact on demand are a vital sign the market won't ignore.
"The Chinese economy has had a phenomenal run," says Bruce Scherr, CEO of Informa Economics in Memphis. "Gross domestic product [GDP] grew almost 12% last year, about 9% in 2008, and likely will be somewhat under 9% next year."
Certainly, there is concern that the "extraordinary meltdown in the U.S. financial markets could send ripples throughout the world," he adds. "Whether it tilts industrial countries into recession and kills demand for Asian goods remains to be seen."
Tsunami watch.
"The world markets are no longer hitting on all cylinders. Financial institutions' failure could have a 'tsunami effect' on worldwide growth," Scherr says. "This is far from over. I think we are just in the middle of it. It doesn't bode well for the next two to three years."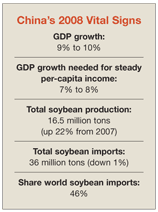 Longer-term, Scherr expects China to be on a slower growth path than the past three to four years, but "unless it is swamped by this tsunami, its de-mand should remain strong," he says.
Scott Rozelle, a Stanford University ag economist based in Beijing, argues that "China's economy is becoming less tied to the U.S. economy. Europe and Japan are bigger destinations for its products, so to the extent they are able to avoid being pulled down, China will be protected. I don't think contagion will cross the border," he adds. "China's banks have been in crisis for 30 years. They are as strong as they have ever been."
Internal demand.
Although he expects slower growth this year, resumption of manufacturing post-Olympics will lend strength to commodity markets, says John Kruse, managing director for agriculture at consulting firm Global Insight. "Factories were shut down for four to six weeks before the event to improve air quality, weakening demand and prices for commodities such as copper. Now they are back up and running."
"Exports aside, China needs to build cities, roads, factories and other infrastructure, so it will continue to have strong demand for commodities," says Emanuel Balarie of Balarie Capital Management in Chicago. "Population growth alone will mean they will struggle to meet growing feed and food demand."
Soybean demand. China represents 46% of world trade in soybeans and is our top export destination, taking nearly 500 million bushels in the 2007 marketing year.
It will be slightly less dependent on foreign soybeans in the current marketing year as additional domestic production is forecast to meet growing demand, according to USDA economists.
The U.S. captured more than 35% of China's total imports and sales that exceeded 13 million tons in 2007. That share will slip this year. Total U.S. bean exports will drop from last year's record 1.15 billion bushels to about 1 billion, almost all accounted for by the reduction in shipments to China, USDA says.
"Even though our crop will be up somewhat from last year, total supplies will be down, and ending stocks can't drop much beyond the 135 million bushels projected," explains Mark Ash, USDA economist. "As a result, we will give up some of our share of exports to South America this year."
John Baize of John C. Baize and Associates, a consulting firm in Falls Church, Va., believes China's crop could be as high as 19 million tons and exports below 34 million. "However, I think the U.S. will do well in supplying soybeans to China, assuming our crop is over 2.9 billion bushels," he says. "Brazil's stocks are fairly tight and U.S. soybeans are price-competitive."

The future.
There's no doubt that China's ag imports will continue to in-crease in the years ahead. Here's why:
• "The real story for agriculture here is that wages are rising," says Rozelle. "Agriculture faces long-run labor supply challenges. The traditional hand weeding is disappearing. Entrepreneurial types are getting into custom mechanized planting, harvest, and so on. Some even work in town and farm on the weekend. And some marginal land is being left in favor of part-time city work."
• This will only get worse. The U.N. estimates that in the next 10 to 15 years, some 400 million Chinese farmers will move to the city and other employment.
• To counter that trend, the government wants to provide jobs in
areas away from current industrial centers and may base some new factories in more rural settings. As industry expands, it could encroach onto farmland, says Frank Rose, professor of finance at Lewis University in Romeoville, Ill.
• "The environment is getting toxic," Rose declares. "Irrigation and water are huge issues. China uses large amounts of fertilizer. As water quality is affected, new restrictions may be adopted."
• It's also possible China's value-added taxes on soymeal and oil will be challenged in the WTO, Kruse adds. "Should those taxes be removed, demand would rise." Changes in currency value also could boost purchasing power.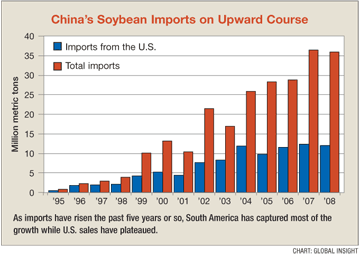 To learn more about China's impact on U.S. ag, attend the Top Producer Seminar in January. Scott Rozelle will share his latest insights.
To contact Linda H. Smith, e-mail
LSmith@farmjournal.com
.
---
Top Producer, October 2008