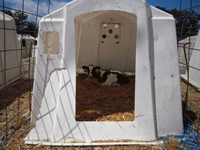 Calves need a dry, comfortable resting area and individual pens.
Raising dairy calves is fraught with risks, but good calf pen design and management can optimize the young animals' growth and minimize their health problems.
"Providing a good environment for every calf is an important element in the success of an overall heifer rearing program," said Dan McFarland, senior Extension education with Penn State Cooperative Extension.
McFarland spoke Tuesday during an educational seminar at World Dairy Expo. Accelerated Genetics sponsored his presentation.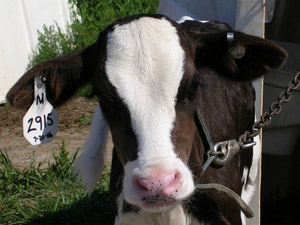 Design calves' pens for easy observation and access.
"Limiting stress is an undervalued approach to solving calf health problems," McFarland said. Calf stress can be imposed by:
Inconsistencies in diet or presentation of feed
Limited availability of water or solid feed
Inadequate feeding during cold weather or illness
Failure to provide clean, draft-free housing
Because calves are born with an immature immune system, special care should be taken to reduce those stresses.
Calf shelter alternatives seem infinite, McFarland said, but the best ones tend to be naturally ventilated calf shelters with individual pens. They allow calves to be isolated from mature animals and minimize disease transmission.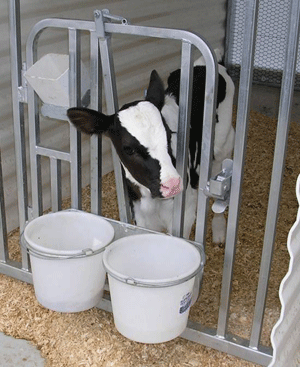 McFarland advises separate containers for feed and water.
Calves should have:
A dry, comfortable resting area – McFarland believes a pen should be at least 30 square feet, measuring at least 4' x 8'.
Excellent air quality
Good access to feed and water
Confident footing
Good observation and access for caregivers
Simple isolation and restraint
Easy feeding
Easy Cleaning
For individual pen plans for calves, visit: http://www.abe.psu.edu/extension/ip/dairyideaplans.html.
---