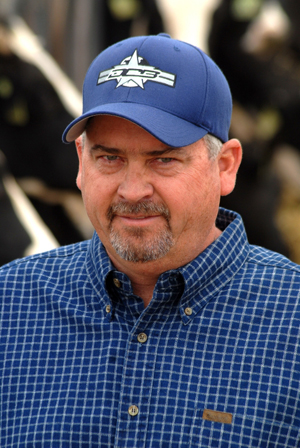 Larry Kamper
Dexter & Roswell, N.M.
Here in southeastern New Mexico, keeping our cows comfortable is a day-to-day job. First, a good facility can really help. Since we don't have freestalls, our cows are subject to all kinds of weather. We provide shade for the heat and humidity and also misters at the feed mangers so the cows can be cool when eating.
We also have fans and misters in the milking barn to cool the cows while they are in the barn. We constantly scrape our pens to give cows a clean and dry place to lie.
Hoof trimming is also important for cow comfort. Each of our two dairies has three employees who know how to trim feet. We trim almost every day of the year.
I think overcrowding can create an uncomfortable cow herd. Cows need to be able to lie comfortably, eat when they want and get adequate fresh water when needed. If cows are overcrowded, less aggressive cows will not perform to their potential.
Kamper's August prices:
(Two dairy average)
Milk (3.41% bf, 2.91% prt)

Gross: $18.58/cwt.
Net: $16.51/cwt.

Cull cows 
$56/head
Springing heifers
$2,200/head
Alfalfa hay (contracted)

$200/ton

Whole cottonseed (contracted)

$170/ton
 

Corn (contracted)
$170/ton
---