Pam Smith
, Farm Journal Seeds & Production Editor
I'm riding shotgun with Aaron Hager, University of Illinois extension weed specialist. We've been out weed watching. This generally consists of Hager swerving off the road occasionally to do an inspection of some curious looking weed.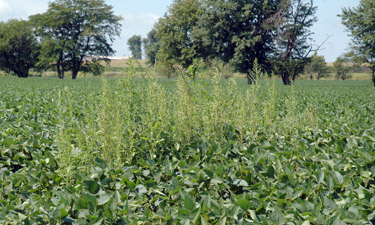 Today, we pass a perfectly lovely and weed free field of soybeans—except for a small strip of waterhemp near the field entrance. "This weed was run over and missed getting sprayed," says Hager, as he examines the offenders. "But this one got hit with glyphosate and survived."
There is official weed "CSI-type" protocol to officially determining if a weed is resistant. Hager can't say for sure if the weeds are resistant to an herbicide without growing out the seeds from the weeds and exposing them to various herbicide tests in a greenhouse setting. New diagnostic tests are helping speed this process, but they must still done in a lab setting.
However, there are field symptoms in this field to watch for when it comes to detecting weeds that might be resistant to herbicide. Typically resistant infestations start as patches often found along field edges or near the field entrance.
Waterhemp, a member of the amaranth family is an increasing problem in the Midwest. Known to be resistant to multiple classes of herbicides, Hager and fellow weed researcher Pat Tramel, think they have located one waterhemp patch in Illinois that will prove to be resistant to four herbicide classes--triazine, PPO inhibitors, glyphosate and ALS inhibitors.
Have you noticed one of these small waterhemp patterns in your field? Hager suggests that you get your hoe out. The perfect time to get a handle on these small outbreaks is before they go to seed. "Hand removing these small pockets of potentially resistant biotypes is worth effort," he says.
Watch our video as Hager describes waterhemp resistance:
---