Driving the all new 2009 Dodge Ram 1500 in Santa Barbara last week, I parked the new Ram R/T with the other well handling automobiles at the Bacara resort (those are Bentley's on each side). That's the theme of the new Ram with rear coil springs, handling, cornering, stability and storage.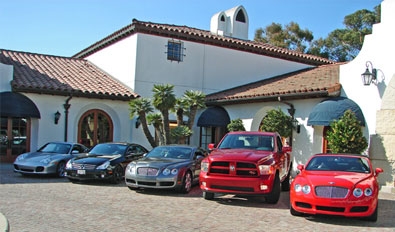 I've been a fan of rear leaf springs for decades and considered coil springs that most SUV's have now, as less desirable for towing. But if you put a truck on a lift with rear leafs and move the axle, it's surprising how much play is back there with the axle hanging.

The Ram rear coil suspension has a tracking bar on top and anti-sway bar on bottom for a tight rear (axle). I towed a horse trailer and a travel trailer, was impressed with the handling.

Dodge isn't going to be the trailer capacity leader in the 1/2 ton class and I see the wisdom in that. When you have a capable 3/4 ton truck, why try to overlap what a 1/2 ton is for. The 09 Ram in single cab configuration can have a payload of 1850 lbs and trailer capacity of 9100 lbs.

But even on what should be a popular configuration, Ram Crew with Hemi, 4x4, 3.92 axle and 17 inch wheels, can have a 8400 lb trailer capacity. Dodge was the first that I know of to use Electronic Stability Control to control trailer sway.

Using the ABS computer to control an outrageously swaying trailer, Electronic Stability Program is standard on all 09 1500 Rams. All the 09 Ram 1500's are made in the US, built in Michigan and Missouri, which is a plus with all the plant closures in the auto business.

Look for the second installment of this article Friday.

Author H. Kent Sundling writes for AgWeb.com via a special agreement with MrTruck.com.