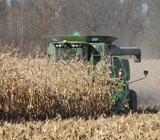 Multiple factors may influence the demand for domestic corn this summer. With the EPA looking into an approval of a higher max on ethanol blends, a substantial increase in the demand for corn could occur, causing a potential spike in the price.
While the initial spike could be welcomed by corn producers, more traditional demand may likely have a more significant impact. "Ethanol is the big one, but higher livestock prices could lead to some expansion in animal numbers and more feed demand," says University of Illinois Agricultural Economist Darrel Good.
Increasing the maximum ethanol blend would allow American ethanol producers to decrease the amount of exports they currently have to oversea markets. According to the Renewable Fuels Association (RFA), 124.3 million gallons of ethanol have been exported so far this year, which has already surpassed the total ethanol exported during 2009.
"Domestic corn demand could get a boost from an approval to increase mid-level ethanol blends from the current maximum of 10 percent. Such an increase would not be a surprise, however, and might result in only modest price support," says Good.
Weather Market?
Good explains that crop prices could be affected depending on a rapid transition from El Niño to La Niña, which may be occurring.
"If La Nina forms, the market will likely interpret that as a little bullish. [There is] opportunity for some forward pricing if it does occur," Good says.
"Other years with a similar transition from El Nino towards a La Nina that has occurred so far this year include 1983, 1988, 1995, and 1998. 1988 had the most rapid and earliest transition and resulted in very low corn and soybean yields. 1983 was a very late transition and also resulted in very low yields. 1998 was a late and strong transition, but yields were near trend values," says Good.