Are producers now engaged in "The Red Queen's Race," where you must keep running just to stay in place? Soaring input costs already are narrowing profits, perhaps dropping per-acre net returns back to 2006 levels next year. But the dollars handled and risk carried are far greater today.

In west-central Minnesota, for example, University of Minnesota Extension Educator Bret Oelke says crop budgets are skyrocketing. Lead-ing the way is anhydrous ammonia, topping $1,100/ton for fall delivery. He expects total fertilizer prices to increase nearly 40% from 2008 and a staggering 114% from 2007.

The story is the same in University of Illinois budgets, which show corn production costs surpassing $700/acre and soybeans over $500. Leading the increases are land rent and fertilizer (see graphs below).

"Of course these early estimates may change, especially on the income side," says Gary Schnitkey, University of Illinois Extension economist. For example, if you were able to lock in 2009 prices offered in July, your income could exceed the $4.80 corn and $10.50 beans used in the projections. "However, there is no doubt the trend in costs is up."

Higher risk. Not only do farmers have to spend more cash to farm, but they are being forced to accept more of the risk. "The retailer can't take on any more financial risk," Oelke says. "As the supply segment is pressured, both from financing grain inventories and financing input inventories, they've tapped themselves out. They're going to push that financing risk down to producers. We're starting to see that in a big way."

W.P. "Tip" O'Neill, president of International Raw Materials in Philadelphia, reports, "Risk is a big deal all along the [fertilizer] chain. Price volatility has been extreme since the summer of 2006. Continuity of supply is also a big issue," he says. "My advice to farmers would be to lock in what you need in advance with someone you trust."

"Many retailers are offering fall programs requiring 25% to 100% down payments," says Steve Becraft, crop inputs manager for Cargill AgHorizons. "In most cases, those offers are well below current replacement values. So, if you assume a stable to higher fertilizer market, most of those offers are a good value today."

However, like O'Neill, Becraft cautions that you should consider the health of the business you are entrusting with your cash. "The grain business has become very working-capital intensive and for every dollar in prepay dealers bring in, they can access around $10 of short-term debt to fund margin calls and grain ownership. If your fertilizer dealer is also in the grain business, it would be prudent to understand its overall financial health."

Several farmers Oelke works with through his private consulting firm typically paid 10% to 25% of their fall nitrogen expense last spring. Full payment in most cases is due Oct. 1, 2008, Dec. 31, 2008 or Jan. 2, 2009. With the money-down requirements, he says farmers are "in essence at least making the down payment for the retailer's inventory," adding that this approach is understandable in the current environment.

Land. At $210/acre, land is the top expense for soybeans and is tied for first place with fertilizer for corn in the Illinois budgets illustrated below, which reflect high-productivity land in the competitive center of the state. In Minnesota, a more conservative $125 rent projection puts it a distant second to fertilizer.

It is also one of the costs that varies the most from farm to farm, depending upon quality of land and competition. For instance, in its annual cash rent survey Iowa State University reports rents in the eight central counties ranging from $160/acre to $222, with an average of $190.

Farmers say they employ a variety of methods to try to control rental rates, from renting from family to multi-year leases to variable leases to "soft skills"—staying on the good side of landlords. Every situation is different, and only you can decide how best to keep land costs in line.

Fertilizer. As Oelke noted, as prices of key components soar, 2009 fertilizer expenditures could be double those farmers paid this year.

Given this is the single largest variable cost outside of land—and one for which prices are in run-away mode—this is the key category to target for cost-cutting measures, consultants say.

Of course, that doesn't mean cutting rates is the answer. "It's key to keep yields up," says Ken Taylor, manager of financial planning for Intrepid Potash in Denver, Colo. "No one wants to miss out on higher grain prices due to lower yields."

Instead, producers say they are doing more soil testing, and adopting GPS, auto steering and variable-rate application technology, as well as teaming up with other farmers to qualify for bulk prices.

Seed. Average seed costs for corn ($78/acre) and soybeans ($53/acre) are expected to be up 26% from this year and about 42% above 2007. "As a percentage of the total, however, seed amounts to only about 10%," Schnitkey points out. "And buying the best seed for your field conditions is always a good investment."

Fuel. The price of fuel has skyrocketed, with the spot price of West Texas Intermediate crude oil expected to average $127/barrel this year and $133 next year versus $72 in 2007. As an input cost, it is expected to be 44% higher than just two years ago, but it also represents only 4% of total costs, so it doesn't offer much opportunity for savings.

Credit. Given the prospect for cost increases and related credit needs, Oelke expects lending institutions, particularly local banks, to absorb much of the pressure. This is increasing the need for extra due diligence when considering a lender. He believes local banks will need to have override agreements in place in case they approach loan limits.

"There are still a lot of lenders out there thinking they had better find someone to participate with now because in six to eight months' time, they're going to be blowing by their loan limits," he says.

Whatever your strategy for the year ahead, "we recommend planning with your dealer to budget the total cost for next year, to make sure you have access to the capital required," Cargill's Becraft says. "Over the next several months, the demand for credit could become stretched."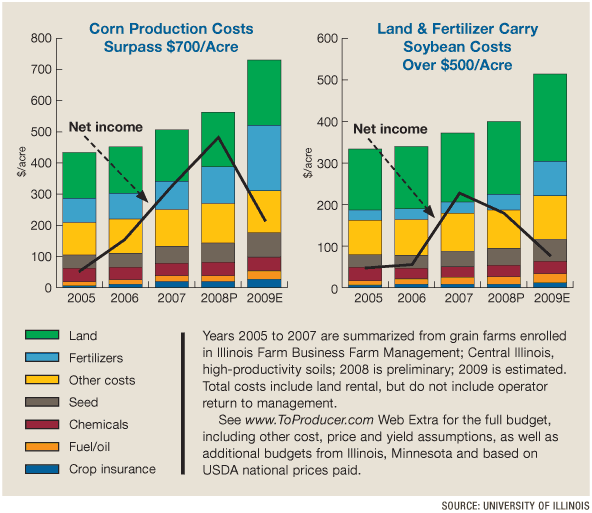 Greg Vincent contributed to this article. To contact Linda Smith, e-mail [email protected].

Top Producer, Summer 2008