After three years, the Farm Journal Test Plots have wrapped up their effort to maximize corn silage production. Located at the Illinois State University Research Farm, the test plot was designed to demonstrate how plant population, row spacing and fungicide application can impact silage yields in terms of tonnage and quality.
The plot crew harvested valuable data from the multiyear study, which showed that increasing population is key to increasing tonnage. In addition, narrow-row silage production increased tonnage without compromising quality as measured in milk tons per acre. (See "Twin Rows Yield Tonnage," September 2007, and "Twin Rows' Cutting Edge," Mid-November 2008.)
"Since population seems to be king in determining tonnage, we wanted to know what narrowing the rows would do to quality, as well," says Ken Ferrie, Farm Journal Field Agronomist. "Narrow rows and high populations push the environment for disease, so in the second and third years we added a fungicide application to evaluate its impact."
Thank You to Our

Test Plot Partners
Our thanks go to: Great Plains Manufacturing, Tom Evans, Wes Henne, Doug Jennings and Doug Brubaker; New Holland, Gene Hemphill, Holly Fritz and Dave Wilbert; Illinois State University, Russ Derango, Bob Crawford, Paul Walker and Jeff Bender; Dave Thomas and Dave Thomas Jr.; Bayer CropScience, Rhonda Brooks, Daren Bohannan and Randy Myers; Pioneer Hi-Bred; Mycogen Seeds; University of Wisconsin, Patrick Hoffman and Joe Lauer; Schertz Aerial and Scott Schertz; Crop-Tech Consulting, Brad Beutke, Isaac Ferrie and Kevin Mohrman.
In 2008, we chopped the third year of silage data comparing 30" rows and twin rows on 7.5" centers at 33,000 and 37,000 plants per acre, respectively. We planted two fields, 70 acres total, with a 40' Great Plains Yield-Pro planter.
"Using one planter eliminated any variables in having to use two planters with different metering systems, transmission settings or depth settings," Ferrie explains. "With GPS guidance, we were able to plant the replications of 30" rows with the 12-finger meters engaged and then return in the barren passes to plant the twin rows with two six-finger meters engaged."
At harvest, the crew used an eight-row New Holland FX forage chopper. As in grain, silage doesn't require harvesting modifications in a switch to twin rows.
"We had GPS in the chopper, so each load was logged and referenced by soil type," Ferrie says. "At the scale house, every load was weighed and sampled."
The silage results were evaluated with the University of Wisconsin's Milk 2006 test. The samples were taken before ensilage; therefore, the green forage equation was used in our evaluations. The silage harvester we used was also equipped with a kernel processor, which has been noted to increase the quality of test results.
 
With an aerial application when the corn was tasselling, a plot partner applied Bayer Stratego fungicide, which has a harvest restriction of 30 days in silage.
"Paybacks were huge with a fungicide on silage," Ferrie says. "In twin rows, the response to fungicide was at both populations with higher pounds of milk per acre."
In pounds of milk per acre, where the fungicide was applied compared with the control, we saw no response in 30" rows at 33,000 plants per acre; an 8% increase in 30" rows at 37,000 plants per acre; a 16% increase in twin rows at 33,000 plants per acre; and a 23% increase in twin rows at 37,000 plants per acre.
"There was a visual difference at harvest between the fungicide-treated areas and the control, which made the results in pounds of milk per acre believable," Ferrie says.
Comparing the two row spacings in pounds of milk per acre, without the fungicide application there was an 11% increase in the twin rows compared with the 30" rows at 33,000 plants per acre. There was a 6% increase in twin rows compared with the 30" rows at 37,000 plants per acre.
Where the fungicide was applied, there was a 29% increase for twin rows compared with 30" rows at 33,000 plants per acre and a 21% increase for twin rows compared with 30"at 37,000 plants per acre. 
"In the past, population was a big part of the tonnage result and that showed up in the pounds of milk per acre," Ferrie says. "Adding a fungicide treatment raised the question if our populations in the plot were high enough."
As he reviews the three-year effort, Ferrie says plant health and population are king in silage production. He notes that the results encourage him not to take silage for granted and to be aware of disease pressures in silage,
especially at high populations and narrow row spacings. 
"In silage-on-silage acres, there is lower disease pressure than in corn-on-corn fields. But it's more than a silage/bean rotation," Ferrie says.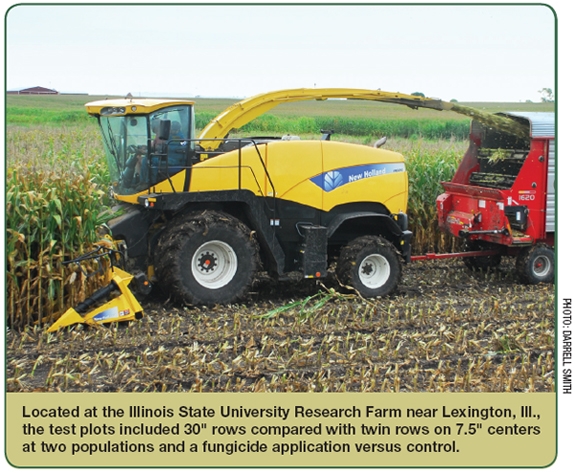 ---