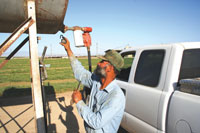 Henry Affentranger, Bakersfield, Calif., locks up a fuel tank for the evening.
With gasoline and diesel prices still in the stratosphere, thieves are taking a closer look at your farm's fuel storage tanks. But fuel isn't the only target. Metal theft remains one of the most prolific crimes in California's San Joaquin Valley, the nation's leading milkshed. 
 
Too often, agricultural property and equipment sit isolated and unsecured, making farms an easy mark for thieves, says Detective Sergeant Keith Rakoncza with the Stanislaus County Sheriff's Department in California.  
Shiny copper, at $4/lb. with strong overseas demand, often leads the stolen-goods list. But thieves also seek out other recyclable materials, including brass, stainless steel, aluminum, iron and batteries. 
 
"Metal theft was virtually nonexistent five years ago but went off the charts in 2006," says William Yoshimoto, assistant district attorney with the Tulare County District Attorney's Office located in Visalia, Calif. "Today, it is one of the largest categories in ag crime."

Farm equipment, tools, chemicals and livestock also remain hot loot, as methamphetamine users and others look for opportunities to make easy money.
 
Among the 13 San Joaquin Valley counties that participate in the Agricultural Crime Technology Information and Operations Network (ACTION), total rural crime theft loss totaled $8 million for the first half of 2008, Rakoncza says. Only $1 million was recovered.
 
The dollar loss was likely much higher, according to Yoshimoto, who also serves as director of the ACTION Project, which was created by the district attorney's office.
 
"A study recently done by the Urban Institute on the ACTION Project revealed that eight to nine out of every 10 ag crimes are not reported," Yoshimoto says. 
 
"Using this study, I have often stated the true picture of ag crime has never been fully understood, and the more accurate impact is nine to 10 times the figure we report in our statistics," Yoshimoto adds. "Thus, a $24 million loss [seen in 2006] in our reporting counties is closer to a $240 million loss endured by our farmers, dairymen and ranchers."
 
Isolated farms must often take their own steps to protect against thieves. "Unfortunately, we just can't have a deputy at your dairy every day of the week," Rakoncza says.
You can deter crime, and even help law enforcement catch the bad guys, by taking a proactive stance:
Install a video surveillance system and audible alarms on outbuildings to prevent illegal entry.
Provide adequate lighting near equipment, fuel tanks and other vulnerable storage areas.
Secure gas pumps, gas tanks, storage bins and grain elevators with strong locks, sturdy padlocks with hardened steel hasps, or deadbolts with a 1" throw.
Carry a digital camera in your vehicle to document any unusual incidents, people or sights. Photograph the license plates of suspicious or unfamiliar vehicles on your farm.
Centralize your calf operations on your dairy to make it harder for would-be thieves to reach calves. Brand or mark your calves as soon as possible.
Get to know your employees and what vehicles they drive. Employees account for a large percentage of thefts on farms, Rakoncza says.
Place signs, decals and other visible warnings to deter would-be thieves.
When possible, bring equipment in from fields each night and lock it in a barn or shed. If equipment must be left in a field overnight, leave it where it can be seen from your house or a neighbor's.
Keep equipment away from roads where it's vulnerable to theft. "Anyone can buy a key over the Internet to start all ag equipment," Rakoncza says. "Most ignitions have not been changed in over 15 years."
Make sure all doors, windows, fences and gates are in good condition and locked.
Stamp identifying information or an owner-applied number (see sidebar) on all equipment.
Maintain an inventory sheet of your property and equipment, especially items you've marked with identification numbers. Include engine numbers, makes, models, color, capacity or any other information that will help identify stolen items.
Report crime. Let your local law enforcement know what happened, when and where.
MAKE YOUR MARK
Police officers and investigators in California's Stanislaus County are big on owner-applied numbers (OANs). These 10-character marks are one of the few reliable ways for theft victims to retrieve their stolen goods.
"We know that if equipment is stolen and it does not have an identifying number on it, it probably will not be returned to the owner," says rural crime specialist Cliff Emery at the Stanislaus County Sheriff's Department.
Developed through a nationwide identification program, OANs can be received by registering with your county sheriff's office. It only takes about a minute.
OANs can be welded onto equipment or applied with a hand stamp. The Sheriff's Department uses a Hilti .27-caliber stamping gun, branding iron and engravers. The department also uses acid etch for marking windows of enclosed tractors.
Emery advises producers to put an OAN on everything that sits on the farm. That includes drill drivers, saddles, pump vacs, air compressors, quads or all-terrain vehicles, CB radios and portable toilets. Even beehives should be OAN-stamped.
Stamp detachable parts of forklifts and backhoes. Mark tractors at multiple locations, including batteries and tires. Power units should be stamped on the right front, back and left.
Don't forget to apply OANs to personal and household property such as televisions, computers, tackle boxes and golf clubs.
---
Bonus content:
In 2007, the Urban Institute studied California's ACTION project, which fights rural crime. In its findings, the Urban Institute said ACTION's efforts could easily be adopted in many other places, and that jurisdictions across the country are greatly in need of and interested in efforts like ACTION. Click here to read more.
You are reading an extended version of this story that appeared in the September issue of Dairy Today.