Even as the combines roll, there's some disagreement about what the ultimate size of this year's crops will be. Should we realize USDA's September yields, we'll harvest the second-largest corn crop and fourth-largest soybean crop in history. How much will wind up on the ground?
All in all, storage utilization will be more like 2006 than 2007, says Brad Anderson of Informa Economics in Memphis. "With fewer corn acres, we may have upwards of a billion fewer bushels seeking a home than last year."
He adds that there were virtually no old-crop soybeans left in bins at the Sept. 1 start of this marketing year, whereas last year there was a record amount.
On the plus side of storage needs, however, we do have more old-crop corn on hand than a year ago, an additional 200 million bushels or more of wheat and a larger bean crop coming, he adds.
Meanwhile, although bin building has slowed from the big buildout we saw last year in anticipation of added corn acres being harvested, plenty of space was added this year, Anderson notes. "There will be regional differences, but on the whole, capacity utilization should be down."
West vs. East.
It appears we'll see fewer piles of corn on the ground in the western Corn Belt this year, ac-cording to Diana Klemme of Grain Service Corp. in Atlanta. Eastern Corn Belt growers, on the other hand, may again find a shortage of bin space.
Based on crop estimates and outlook for stocks on hand ahead of the September stocks report, Klemme says, "the Delta states will be heavy shippers into the Gulf export market given the need to move crops." Basis may weaken further where crops need to move right out, she adds.
The surplus space in Texas and other states west of the Mississippi, on the other hand, may bring an early bottom to basis, as was the case last year, she says. In 2007, corn and soybean basis was on the way up by mid-October, rising 30¢/bu. for the month in many markets.
"It's possible that elevators will chase bushels through improved basis in surplus states such as Iowa and Minnesota," Klemme says.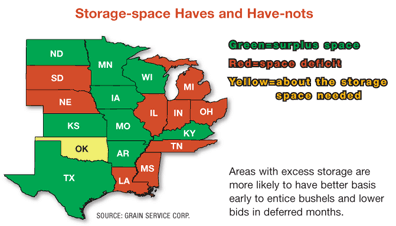 Constraints.
But money is a huge limiting factor, Klemme notes. "If we bin a 12-billion-bushel corn crop and 2.9-billion-bushel soybean crop, they'll be worth about $26 billion more than last year's, even though prices have come down some recently.
"If it all moved at harvest, and assuming elevators supplied 10% equity and borrowed 90%, that would mean they'd have to have $2.6 billion more equity this year to secure the credit," she points out.
Of course it won't all move at harvest, she says, but cash will definitely be an issue for elevators.
Storage math.
Forward contract bids for sales out of storage reflect the storage situation Klemme describes. "In general, western Corn Belt states offer limited opportunities to store at a profit. In fact, only in South Dakota could you earn a positive storage return when you factor in costs," says Kevin McNew of cashgrainbids.com. "In the eastern Corn Belt states, storage seems more likely to offer a positive return."
In both regions, given the spreads between delivery months from No- vember to March versus the cost of storing, January seems to offer the greatest reward for storing, he found.
When making your decision whether to store, keep in mind today's higher costs of doing so, McNew says. "The interest costs, whether real or lost opportunity, are higher on $6 corn and $13 beans than on $3 corn and $6 beans," he points out.
At 8%, it costs you about 4¢/month for corn and almost 9¢/month for soybeans to sit in your bin. "In addition, drying costs are up again this year," McNew says. "Added up, the interest cost plus drying, shrink and the like total about 7¢/month for corn and 12¢/month for soybeans. That's a pretty hefty price tag to overcome."
If you plan to store corn or beans, corn gets the nod, he adds. "Costs are higher for soybeans, and the prices for deferred delivery don't appear to justify those added costs." 
Factors to Watch
1. Size up your storage needs as far ahead as possible.
2. Stay on top of basis—in areas with excess storage, elevators may bid more aggressively to capture supplies.
3. Get a feel for elevators' finances—those with more cash and credit can bid more for your crops.
4. Calculate storage costs before deciding whether to store.
5. Consider transport logistics and costs when you choose your delivery point.
To contact Linda H. Smith, e-mail
LSmith@farmjournal.com
.
---
Top Producer, October 2008