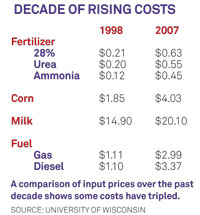 The cost to raise a heifer jumped nearly 60% from 1998 to 2007, according to a survey of 49 Wisconsin dairy farms and custom heifer raisers spread across 21 counties.
According to the survey, heifer raising costs climbed to $2,149/head compared to $1,361 in 1998. Of that $788 increase, $400 came in higher calf value and $148 in higher labor. The remainder came in higher feed and other costs.
"Given the huge increase in feed prices this year, these numbers become obsolete quickly," says Pat Hoffman, a University of Wisconsin heifer specialist. Hoffman led a team of about 20 Wisconsin County Extension agents in collecting the data.
"Inflation has a different effect on heifer-raising operations compared to raising crops or producing milk," Hoffman says.
In cropping operations, genetic and varietal improvements each year along with biotechnology gains can offset some rising costs. In milk production, there are increasing milk yields through genetics. "But genetics don't have any tangible effects on heifer growth rates, so there are no genetic offsets to inflation," Hoffman says.
Heifer growers—be they dairy producers or custom operators—are facing ever-increasing costs and a limited number of options to offset them. Hoffman predicts many heifer-grower contracts will include inflation indexes, adjusted quarterly or semiannually depending on prices.
To make comparisons equal, the Wisconsin group assigned prices so they were the same for all operations. Legume haylage was valued at $100/ton; corn silage, $85/ton; corn grain, $116/ton and soybean meal, $200/ton—all 100% dry matter.
Calf raising costs have doubled in the past 10 years. The summary shows the average cost to raise a calf from birth to weaning is now $365. The average daily cost is about $5.50. Labor and management are the biggest component, making up 47% of this cost. Feed, even with higher milk replacer costs, is about 34%.
The cost to raise a heifer from weaning to freshening now averages $1,322. Here, feed makes up 52% of the cost while labor accounts for 18%.
The Wisconsin analysis also shows huge spreads between the highest and lowest cost producers and between dairy producers who are raising their own replacements and custom heifer growers.
The lowest cost producer was spending $576/calf while the highest cost producer was shelling out $1,185/calf. The lowest cost producer was spending $850/heifer and the highest cost was $1,900.
Dairy producers in tie-stall barns were spending about $380 to raise a calf to weaning compared to $315 for free-stall operators and $179 for custom calf growers.
Dairy producers in tie stalls were spending another $1,416 to get that calf to freshening while freestall operators were spending $1,361 and custom heifer growers were spending $1,113.
Custom growers in the survey had lower calf and heifer-raising costs for a number of reasons, Hoffman says:
They used lower-priced, pasteurized waste milk.
They were more labor-efficient.
They used unique, but lower-priced, feed ingredients.
They focused exclusively on heifer rearing, knowing their profitability is contingent on delivering healthy, reproductively fit animals by 22 to 24 months of age.
Bonus content:
Click here to read the Spanish version of this story.