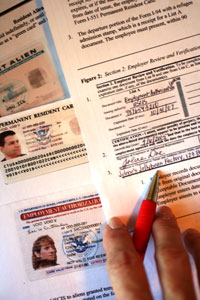 "The I-9 is your shield," says attorney Tony Raimondo. "If it's correctly filled out, they can't prosecute you."
No matter how you feel about the nation's immigration policy, you must have your dairy's I-9 forms in order.
"Don't wait until you're raided by ICE [Immigration and Customs Enforcement] to determine if you are in compliance," urges California labor attorney Anthony Raimondo. "Be proactive, not reactive."
Form I-9—the Employment Eligibility Verification document required by the Department of Homeland Security's U.S. Citizenship and Immigration Services bureau—must be completed for all new hires, including U.S. citizens.
"It's a felony to break immigration laws," Raimondo says. "The sad, hard truth is that if your employees don't have proper documentation, you have to fire them."
A properly completed I-9 is your No. 1 protection. "Take the time to fill it out," he says.
Remember these I-9 facts:


1. Documents must be originals that "reasonably appear genuine on their face," Raimondo says. If they do, they must be accepted. "You're not required to be an expert on document forgeries," he adds. Copies of the originals, however, are not acceptable.
2. The law does not require you to copy employee documents. "If you keep copies, you are giving ICE an opportunity to second-guess your judgment on whether the document appeared genuine, except that ICE will be looking at a copy when you were looking at an original," Raimondo says.
3. Employees must produce one document from the I-9's List A, or one from List B and one from List C. (Find the lists on the back of the I-9 form.) "Make sure you know the difference between them and the purpose of each," Raimondo says. List A documents prove identity and authorization to work. List B documents prove identity only. List C documents prove work authorization but don't show identity.
4. Errors, typos? "Let your mistakes be seen," Raimondo says. "There is no reason to make ICE suspicious about what you might have blocked out."
5. All employees have to fill out the I-9's Section I on their first day of employment. They have three days to produce the proper documents. "If they don't, you have to let them go," Raimondo says.
6. You don't need to complete a Form I-9 for persons who were hired before Nov. 7, 1986, and are continuing in their employment and have a reasonable expectation of employment at all times.
7. Make sure your office system is programmed to flag I-9 forms 90 days before the expiration date of any work authorization document.
8. You must keep I-9 forms on file for three years after the hire date or for one year after employment termination, whichever date is later.
9. Ensure that your staff members who oversee new employee documents are trained to properly complete I-9 forms and process them.
10. An I-9 audit requires that you have three days' advance notice in writing.
Bonus content: