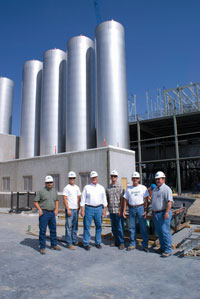 Idaho Milk Products' management team (from left): Rich Howard, maintenance manager; Eric Aardema, production; Tom Myers, president; John Martin, business manager; Scott Jackson, partner; Matthew Sandry, quality and human resources manager.
Three Idaho dairy producers are combining their sizable resources to build a milk processing plant in Jerome, Idaho.
Idaho Milk Products (IMP) will open a $100 million powder plant in early 2009. The project has been five years in the making, says Rick Onaindia, CFO of Bettencourt Dairy, one of the three owners. "It's a huge investment monetarily, timewise and psychologically."
The facility can't come soon enough for Idaho, the nation's fourth-largest milk producer. "The plant is terribly needed," says Tom Myers, IMP president. "There's more milk than processing capacity here."
In all, Idaho counts 18 dairy processing plants. They're capable of consuming about 32 million pounds of milk a day, but they've been hard pressed to handle the state's growing milk supply. In the last three years, production has risen by 7% to 8% annually, with a jump of 2.2 million pounds between January and June 2008 alone, says Russ De Kruyf, president of the Idaho Milk Processors Association. From July 2007 to July 2008, Idaho's milk production rose 7.8% with cow numbers climbing to 556,000 head, up 40,000 head, USDA reported in August.
The new IMP facility will boost the state's dairy processing capacity by an estimated 7.5%. It marks the third new milk processing plant built in Idaho in the last three years. Gossner Foods opened a new plant two years ago in Heyburn, while High Desert Milk's new facility in Burley ramped up production this summer. Several processors have expanded capacity at existing plants.
IMP's co-owners,
which include Aardema Dairy and Big Sky Dairy, believe the vertical integration project will improve their market access and boost long-term gains.
"For us, in this market, building the plant makes sense," Onaindia says. "It will give us direct access to the market that we wouldn't have otherwise."
Jerome was selected as the IMP plant site "because it's where the milk is," Myers says. Combined, the three dairy owners produce 7 million pounds of milk per day from about 100,000 cows. The trio accounts for 18 dairies, including Bettencourt's 10 locations in Idaho's Magic Valley.
The plant is expected to produce 92 million pounds annually of powder, mostly milk protein concentrates and milk lactose permeate. It will also turn out cream. The company will market its output both domestically and internationally. Like other local plants, IMP will process milk from cows not treated with rBST.
The 180,000-square-foot plant broke ground in October 2007. It will employ 65 workers.
"We are ecstatic that new processing capacity is coming to Idaho," says Bob Naerebout, executive director of the Idaho Dairymen's Association. "It is extremely important that our processing capabilities keep pace with our production increases."
---
Bonus content:
Idaho's newest dairy processing plant kicked into gear in July when the High Desert Milk plant at Burley came online a year after starting construction.Click here to read more.
A closer look at an Idaho titan: Idaho's Bettencourt Dairy operates 10 milking facilities with some 60,000 head milking, plus dry cows and two separate heifer facilities. It also farms 30,000 acres of corn and hay. The operation counts 400 employees, including family, partners, and staff. Learn more about this ultramodern dairy and view photos and video at http://bettencourtdairy.com/home.